iGotcha makes a big transit move in Vancouver
The partnership marks a major foray for iGotcha into the transit space.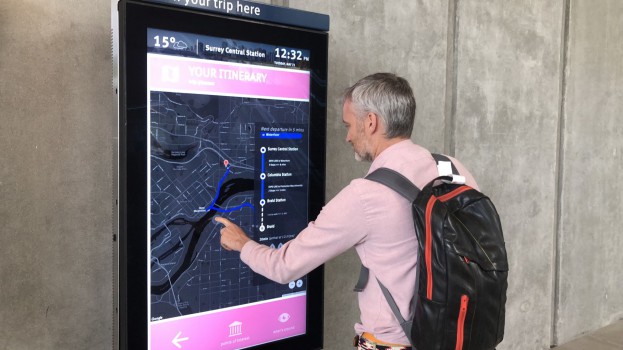 Place-based digital media provider iGotchaMedia has inked a new partnership with outdoor ad company Lamar Advertising which will allow it to expand into the transit space in Vancouver.
The new partnership will see iGotcha provide digital screens in 70 transit venues across the TransLink network, which is Metro Vancouver's transit authority and manages SkyTrain, Coast Mountain Bus, West Coast Express, SeaBus, Park and Ride locations and bus loops.
The new touch-screen kiosks are primarily to provide information to travelers, but will contain numerous dynamic advertising opportunities. Kyle Pilot, CTO and co-founder of iGotcha, explains: "When they're not being used, they'll have advertising running on the screens, and they have a little bit of advertising built into the wayfinding part," he tells MiC.
Those ads incorporated into the wayfinding aspect include a "what's nearby" feature, as well as points of interest, through which brands can promote themselves.
For users, the 55-inch screens will include maps, emergency alerts, live transit data (schedules, wait times), an RSS feed, weather feed, attraction information and more.
And for iGotcha, the deal marks a new chapter, both in and beyond, the Vancouver market: "We've done a lot of digital signage deals in the city, but transit is very new for us in Vancouver and beyond," says Pilot, adding that the company has big ambitions to grow in the vertical.