CBC firms up fall schedule
Battle of the Blades is slated for a September return, while Family Feud Canada will hit screens four nights a week starting mid-December.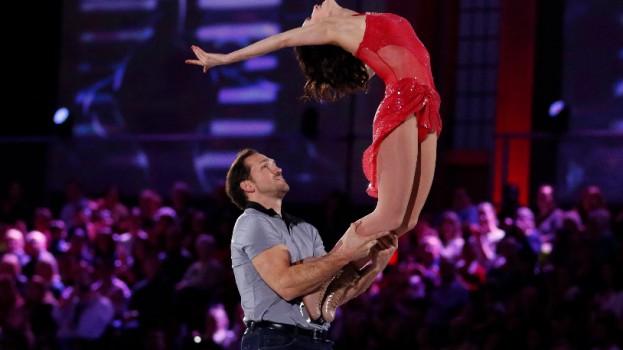 CBC has set its 2019 fall programming schedule for new and returning series, including a December debut for the Canadian remake of Family Feud and a Thursday-night slot for the returning Battle of the Blades (pictured).
Family Feud Canada (Zone 3), which will air four times a week from Tuesday to Friday, debuts on Dec. 16 at 7:30 p.m. before moving to its regular 8 p.m. slot the following week.
Meanwhile Battle of the Blades (Insight Productions) returns with a two-hour special at 8 p.m. Sept. 16. The competition series returns for its fifth season after more than five years off the air.
Elsewhere in the schedule, Monday nights remain unchanged, with Murdoch Mysteries airing at 8 p.m., followed by Frankie Drake Mysteries at 9 p.m. The Shaftesbury-produced series, which are headed into their 13th and third seasons, respectively, both premiere on Sept. 16.
On Tuesdays, season five of Still Standing (Frantic Films) debuts at 8 p.m. on Sept. 17, followed by season 27 of This Hour Has 22 Minutes (DHX Media) at 8:30 p.m., new half-hour comedy Tallboyz (Accent Entertainment) at 8:30 p.m. and season four of Baroness Von Sketch Show (Frantic Films) at 9 p.m.
Wednesday nights see The Great Canadian Baking Show (Proper Television) return to its 8 p.m. slot on Sept. 18, followed at 9 p.m. by the CBC/Netflix family drama Northern Rescue (Don Carmody Television), which debuts on linear for the first time after launching on digital in March (via CBC Gem in Canada and internationally on Netflix).
With Battle of the Blades scheduled in the 8 p.m. Thursday slot, season 14 of Dragon's Den moves to 9 p.m. The entrepreneurial pitch series debuts on Sept. 26.
Meanwhile, season 46 of Marketplace returns on Friday, Sept. 27 at 8 p.m., followed by season two of In the Making at 8:30 p.m. and season 59 of The Nature of Things at 9 p.m. The latter is switching from Friday to Sundays. CBC Arts: Exhibitionists returns at 11:30 p.m. on Friday, Sept. 27.
On Sundays, Heartland (Seven24 Films, Dynamo Films) returns for its 13th season at 7 p.m. on Sept. 22. The Alberta-shot series is followed by Netflix/CBC series Anne with an E (Northwood Entertainment), which returns for its third season, and The Fifth Estate, which returns for its 45th.
CBC also set launch dates for a number of Canadian feature films, with David Cronenberg's Cosmopolis (Sept. 27), Xavier Dolan's Tom at the Farm (Oct. 25), Paul Gross' Hyena Road (Nov. 8) and copro Maudie (Dec. 6) all set to begin streaming on Gem later in the year. Ahead of Gem's launch, CBC forged a partnership with Telefilm to bring around 150 Canadian films to the service.
On the international series front, CBC set premieres for a number of acquired properties on Gem. Season five of U.K. drama Luther (4 x 60 minutes) debuts on Nov. 15, Israeli drama Stockholm (4 x 60 minutes) on launches Oct. 1, hour-long thriller The Victim (4 x 60 minutes) begins streaming on Sept. 6 and season one of Documentary Now! launches on Gem on Sept. 6.
Recently commissioned CBC dramas Trickster and The Sounds will debut in 2020.
A version of this story also appears in Playback.