Twitter bridges desktop and mobile with new design
The social platform brings its legacy website up-to-speed with functions of the mobile app.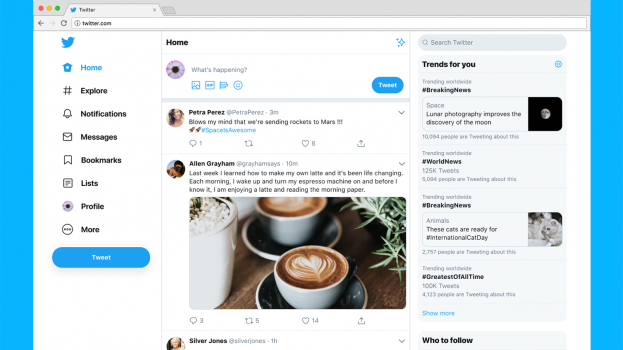 A new set of design changes to Twitter's desktop version attempts to make the platform more personal for users and more attractive to advertisers.
The social media platform announced a slew of new features Monday. Updates to the desktop version include the addition of an "explore" function, profile information within conversations and easier access to bookmarks, lists and a user's profile, which are now embedded in the navigation sidebar. As well, direct messages have expanded allowing users to see ongoing conversations and current messages in the same view, and Twitter has also made it easier to swap between multiple accounts.
"One of the main things we were trying to get at with this rebuild of the website was that it was much closer to the mobile experience," says Ashlie Ford, a product designer with Twitter based in San Francisco. Further updates – of which more are planned – will now roll out simultaneously between the app and the desktop site, having been built on a new technical stack.
"One thing we worked really hard on was to make sure Twitter feels as live as possible," Ford says. For example, real-time updates will now also be available on desktop, tracking how fast a tweet is growing in engagement.
The speed of the legacy site has also improved; videos and content will load faster and at a higher quality, according to a spokesperson from the company.
Twitter launched the new features globally Monday and will phase them out for all users moving forward. This week, the platform also began testing a new feature in Canada allowing users to hide replies on their posts.