Tim Hortons ups media spend for Special Olympics program
For its second year supporting the Global Day of Inclusion, the QSR is looking to drive awareness with paid media (and a donut).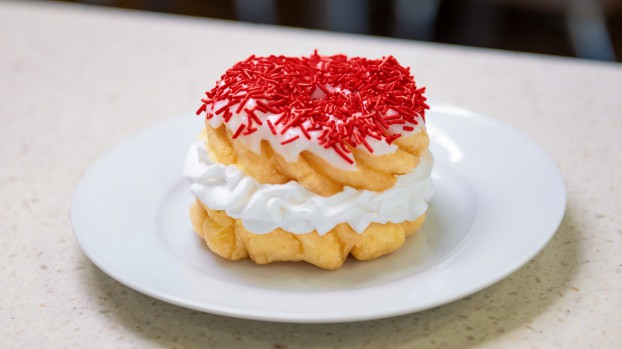 We're in the midst of Global Inclusion Week, a moment in time when many pledge to accept "the lonely, the isolated, the left out, the challenged and the bullied." These are the words found in an ongoing pledge, designed by the Special Olympics to help people "overcome the fear of difference and replace it with the power of inclusion."
This year marks the second time Tim Hortons has partnered with the non-profit for the event. For 2019, it's supporting the movement with a national campaign that includes a big spend –  and a donut, topped with vanilla fondant and red sprinkles.
The second annual Global Day of Inclusion is this Saturday, July 20 and the campaign aims to raise awareness and funds for Special Olympics programs.
The centrepiece of the day is a limited-edition donut created by Special Olympics athlete, Tori Ranson of the Georgetown and Milton Special Olympics clubs. The cruller was selected from more than 400 submissions. All proceeds from sales of the cruller on July 20 will be donated to programs that support the athletes.
This year, Tim Hortons has invested significantly in PR and paid media spend to promote the message of inclusion across TV, radio and digital channels, according to the brand. The national campaign includes promotions on TSN, a radio commercial voiced by a Special Olympics athlete, and in-person appearances or social media support by Olympians that include Adam van Koeverden, Roz G and Phylicia George.
Bell Media produced the radio spot for Special Olympics Canada. The TV spot, produced by TSN with a script from Tim Hortons' agency Zulu Alpha Kilo, will air on TSN and Bell stations. Digital assets for the Day of Inclusion were created by Zulu, TSN and Special Olympics agency Grey.
The social sharing piece of the campaign invites Canadians to share a picture of their Special Olympics Donut on social, with the hashtag "#ChooseToInclude" (as part of the Special Olympic inclusion pledge) for a chance to win a TimCard.
Tim Hortons has been a Platinum National Partner of Special Olympics Canada since 2016 and is the lead corporate sponsor of Special Olympics Canada's youth programs Active Start for 2- to 6-year-olds and FUNdamentals for 7- to 12-year-olds. There are more than 47,500 children, youth and adults participating in Special Olympics programs across the country.
Both Tim Horton's PR Agency (North Strategic) and Special Olympics PR Agency (Hype PR) supported on earned media efforts. So far, there have been more than 25 interviews with Special Olympics athletes celebrating inclusion that have taken place across the country.