Corus extends relationship with Moores
This year, the annual Suit Drive will extend to other Global properties, with celebrities like Jason Priestley and Tan France lending a hand.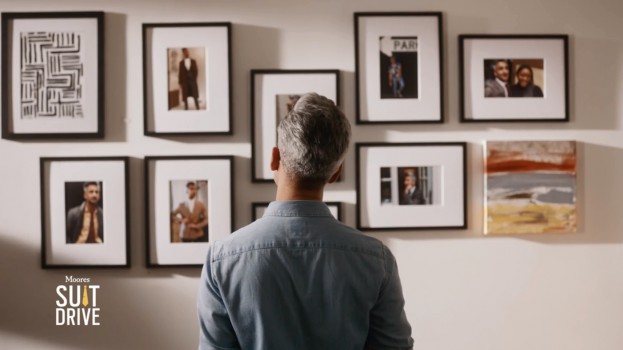 Moores has once again tapped Corus for a month-long campaign to promote its annual Suit Drive, which sees the men's retailer provide secondhand suits for people in need.
This year, the month-long multiplatform campaign has added extended to new Corus properties. In the past two years, it has stuck to a prime-time integration on ET Canada. However, this year, it's also integrating with Global News Morning for interview segments to better promote the initiative.
The campaign centers around an ET Canada-hosted search for a deserving individual in need of a suit makeover from Moores. Segments encouraging donations, hosted by Cheryl Hickey, have been integrated into the show. For the Global News Morning segments, the content was customized to local markets, where each news team created segments about how the Suit Drive impacts their specific communities.
In addition, Global is using its new "L-Frame" ad units during the program.
In addition to the television integrations, some celebrities have been engaged. Private Eyes star Jason Priestley (who will also appear on Global in the hotly-anticipated BH90210 six-episode reunion show this August) is the official Suit Drive celebrity ambassador. While Priestley will serve as the main ambassador, Moore's has also created PSAs with Netflix's Queer Eye style expert Tan France. However, this is separate from the Corus integration.
The campaign is also including geo-targeted digital and social ads with video content in nine local markets.
A representative from Corus told MiC that the campaign targets a "broad, all-encompassing" demographic, since both men and women are encouraged to donate their gently-worn work attire. While Corus Tempo managed most of the integration, PR agencies Oliver PR and V&Co assisted with the integration.