Pattison takes up residence in Billy Bishop passenger terminal
For Pattison, the win bridges a geographic gap and complements its current transit offering in the GTHA.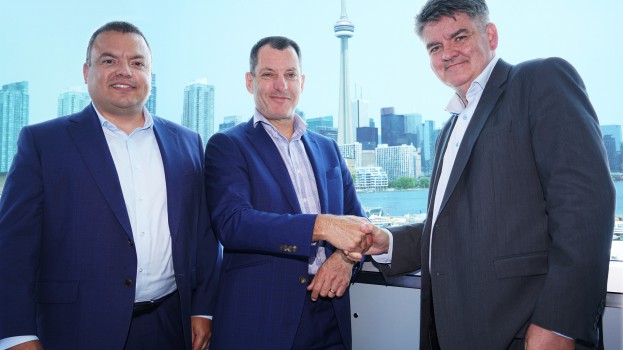 Pictured left to right: Nieuport commercial director Jason Attard; Pattision Outdoor VP and GM Brian Rodkin, Nieuport CEO, Neil Pakey.
For Pattison Outdoor, touching down in the passenger terminal of downtown Toronto's Billy Bishop Airport is about much more than just an airport.
For one thing, it's a ground play, says Brian Rodkin, VP and GM of Pattison Outdoor. "With our airport strategy, Pattison has very much had a western dominance – Calgary, Winnipeg, Edmonton, Regina, as well as [exterior signage at] Ottawa and Halifax. So we have west, and a bit further east, but this really gives us a presence in Toronto and that corner of Ontario." He tells MiC the airport, which sees passengers fly north and east within Canada, as well as to several key U.S. cities, gives Pattison both a regional and national presence, and brings Pattison's current airport reach to 50 million passengers annually.
The OOH vendor won the rights to the passenger terminal in the airport earlier this week. The rights apply to all parts of the airport past the entry passenger tunnel, for which OOH company Black holds the rights.
While Rodkin couldn't specify the length of the multi-year deal, he says the company is looking to make this a future-focused deal. "It is long-term, and there are options on it. We're really committed to this airport."
The commitment to the airport comes not just from it bridging a gap geographically, but also adding a sense of completion to Pattison's GTHA transit domination. With contracts with the TTC, Go Transit, various regional transit within Toronto, the PATH and the UP Express, Rodkin says it allows advertisers opportunities to target commuters consistently.
As an airport, Rodkin says, "the changes that it's going through are phenomenal" in terms of added retail, enhancements to the lounges and more. As such, Pattison is also undertaking a multimillion dollar digital investment within the airport, set to be completed this fall. At the check-in hall, where travelers first emerge from the tunnel, currently two large digital screens and a large hanging static banner occupy the space. That hanging banner will be transformed into a large-format digital showcase with a large LED screen, similar to the one already in the airport's atrium.
Pattison is also upgrading a large number of its existing LED signs, and is adding large-format digital signs in the departure lounges ("because that's where the longest dwell times are," Rodkin explains). Other upgrades include Gateway TV digital signs.
According to numbers from Vividata provided to MiC by Pattison, Billy Bishop's passengers tend to be from high-earning households (the average household income of passengers is above $100,000 per year), 70% of passengers have traveled internationally in the last year, and 84% of visitors have noticed an OOH ad.