Cineplex Digital Media innovates with Tim Hortons
Inside Tim Hortons' new innovation cafe, Cineplex has created a digital wall to educate guests on the brand's transition.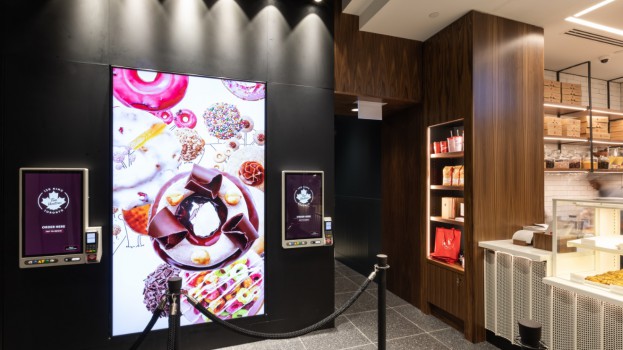 When the new Tim Hortons Innovation Cafe opened at 130 King West last week, there was a lineup out the door and down the block, which speaks volumes to the brand's effort to step into the future with its offerings. Along with an elevated product line, the new location also houses a 4K, 98-inch video wall from Cineplex Digital Media, another play in the company's roster of screen solutions.
Partners for nearly two decades, Fab Stanghieri, EVP and general manager of Cineplex Digital Media tells MiC the iconic Canadian QSR was one of CDM's first clients. "Innovation has been part of the DNA of our relationship from day one," he says.
In the new cafe, the video wall cycles through product shots on a digital canvas, Stanghieri says, to show the "brand love" and to tell the Tim's story. "It's really meant to educate guests," he says, both of the changes the company is heading up and the products driving that transition. "What's exciting about this," he says, "is that it is a fully integrated creative solution from restaurant design phase right through to execution."
Slightly different than what Tim Hortons does with its TimsTV network – also created with Cineplex – the video wall is more of "a brand play versus a media play," Stanghieri says. In both cases, the medium is being treated as something that drives the value of the impression, he says. "Ultimately, when we look at preparing and tracking content to these networks, it's all about how do you make an impression worth more and create an engaging piece of content that the consumer will engage with on their journey."
But for Cineplex, the deal still represents another feather in the cap for its digital signage business. This past spring, it signed a major deal with retailer MEC to outfit its stores with digital signage. Place-based media is growing vastly for the broader Cineplex company – in 2018, it represented just over one-third of Cineplex's media business, bringing in $56 million (in-cinema revenue, which largely consists of pre-show advertisements, brought in $109 million). Last year, place-based media revenues increased by 0.9%, which was driven by an increase in installation, including expansions with ONRoute, Tims TV and Ivanhoé-Cambridge.