Branded Cities towers over Yonge-Dundas
The new display will allow for more brand dominations, which Branded Cities says are becoming increasingly common.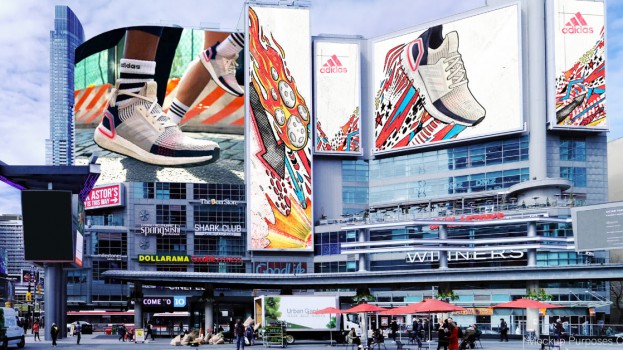 Has Toronto's Yonge-Dundas Square looked a little naked to you over the last few months?
Yonge-Dundas Square, often cited as the busiest intersection in the country, is home to flashy retail and flashier digital billboards. But throughout the spring, 10 Dundas East, a commercial property owned by property management company BentallGreenOak, has been missing several key towering billboards.
Now the building, which contains a Cineplex theatre, entry to Dundas Subway Station and numerous retail and food locations, once again has a full face of digital billboards, and they're now under the ownership of OOH vendor Branded Cities.
The new deal includes 10,995 square feet of digital media and 13,861 of large-format static, for a total of 24,856 square feet.
The space was previously dominated by Cieslok before being acquired by Bell Media's Astral OOH. BentallGreenOak then commenced an RFP process for the space earlier this year, looking to refresh the overall installation.
Ali Satchu, VP of marketing at Branded Cities, says a combination of large and mid-sized screens are beneficial to brands, sometimes more so than one very large screen.
"One screen might have Twitter feeds, the other might be announcing a winner every hour, another might be showing the branding," he says. "There's a lot of potential there." He adds that some of the new installations remain static, and that although digital is driving big gains for OOH, static still has a role to play.
"When you have static, you have long-term dominance. You're not sharing a screen with someone else."
The intersection sees numerous OOH vendors in competition with one another for both ad dollars and attention; across the square, Astral has a new wraparound digital billboard atop the square's large drugstore. On the smaller scale side, Outfront Media has installed 10 mid-sized digital screens throughout the square. Branded Cities itself already has a large presence at the square, having unveiled it's 8,454 square-foot digital OOH display on top of the Eaton Centre entryway in late 2017, and operates the numerous large atop the Atrium on Bay, across Yonge from the revamped display.
Branded Cities also has a presence inside the mall; just last week it opened a digital spectacular network within the CF Toronto Eaton Centre featuring five installations, including a large curved display at the entry to the Urban Eatery food court.
Satchu says the investment fits with an increasing marketing trend the company has witnessed.
"What we noticed from our displays over the mall and the Atrium is that brands were focused on domination strategies. This year, our numbers have significantly skyrocketed in terms of brands wanting to buy all three digital screens. There's been great opportunities to do really cool content."
He cited Branded Cities' work with the CBC and Initiative to promote the crime series Caught. The activation saw series star Allan Hawco jumping from screen to screen to draw the eye upward. It earned the three parties numerous awards, including the AdClub's OOH Showdown.
Satchu says even a year ago, this was a huge innovation – but now it's common. "You have CPG and yogurt brands wanting to get in," he says. "Brands want to create that immersive experience."
He says with the Atrium and mall-topping displays, Branded Cities now operates just over 50,000 square feet of signage.
The square sees an estimated foot traffic of 806,000 visitors daily, and the space hosts approximately 200 events per year. The mall, meanwhile, sees 53 million visitors annually.