Hamilton Beach serves up second course of 'Make It'
The kitchen appliance brand's web series featuring Miranda Malisani returns, as the company throws most of its media spend behind an online strategy.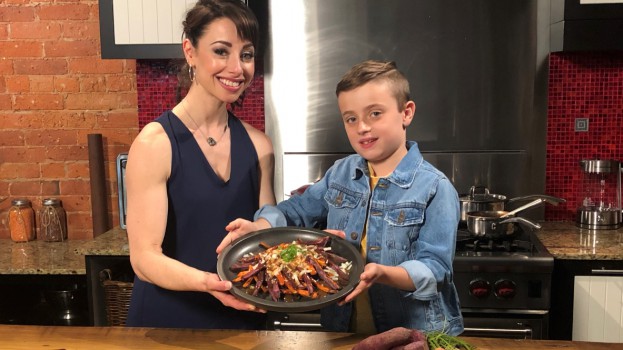 Hamilton Beach will return with a second iteration of its Make It web series, using video to reach an audience of at-home cooks of all ages.
"We're trying to be a brand for everyone," Louisé Sauve-Nicholls, director of marketing for Hamilton Beach, tells MiC. The appliance brand saw success with the first version of Make It that included 105,000 social media views, 400,000 impressions and 10,000 social engagements across the brand's social media, including its dedicated YouTube channel.
Hosted by holistic nutritionist Miranda Malisani, the new batch of shows were cooked up by Brantford-based Atomic Spark, upping production value while adding a new co-host for each three-minute episode, of which there are six planned for this round. The goal, says Sauve-Nicholls, was to make it more engaging – alongside Malisani is her son Jack (pictured above), professional chef Roland Torok-Ducharme and foodie Louisa Clements, among others – in order to "elevate" the conversation around food.
Using original recipes developed by Malisani exclusively for Make It, each incorporates the brand's product line. The company is targeting those who feel at home in the kitchen, as well as those who don't, bringing viewers short-form content to help them look differently at what is in the fridge. "We want to inspire them in their journey to become better cooks," Sauve-Nicholls says. "Encouraging viewers to go to the store, pick up an air fryer and hopefully build on that consumer loyalty toward our brand."
Throwing most of its media spend behind PR and social is a strategy to best competitors in the small kitchen appliance market, Sauve-Nicholls tells MiC. Online engagement was "very encouraging" from the first Make It series so investing in online media is where the company will continue to focus, she adds.
Hamilton Beach also shares its video content with retail partners, as well as on the social channels of Malisani and her guest co-hosts. "We're getting an extended reach on that," says Sauve-Nicholls.