Inside Kinetic, MiQ and Hivestack's new DOOH tool
The OOH specialist is making big moves to give advertisers a holistic view of OOH inventory.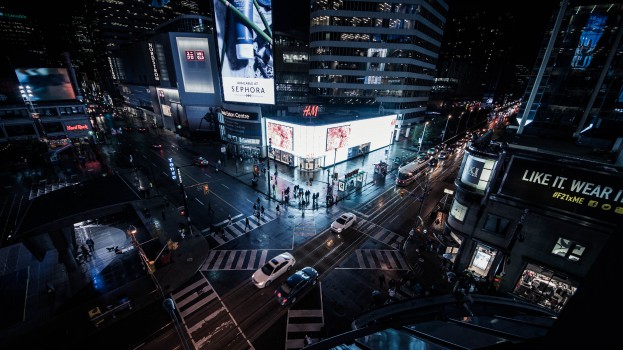 In the heart of downtown Toronto, a unique three-way partnership has been struck, with three companies hoping to create a major tectonic shift in the digital OOH industry.
OOH ad tech company Hivestack has created a custom DSP specifically for OOH specialty agency Kinetic (owned by GroupM), incorporating swaths of mobile data from analytics firm MiQ.
The partnership allows Kinetic to buy digital and static OOH inventory in real time, with marketing intelligence provided by MiQ to not only inform media buys but also to help measure effectiveness.
Kevin McDonald, CEO of Kinetic Canada, explains to MiC that his company believes digital is a massive growth opportunity for OOH. He estimates that while between 7% and 12% of OOH faces in Canada are digital, they drive between 30% and 40% of OOH revenue — meaning there's incentive for vendors to undergo digital transformations. But as digital OOH grows, standardization is still an issue — transactions and measurement are still, as he says, very fragmented.
Riina Clydesdale, president of Kinetic, adds that this issue hasn't just existed in digital OOH. "We've never been able to properly optimize out-of-home in the past… A traditional out-of-home agency [static] buy, you'd reach out to a half-dozen suppliers, you'd get prices, decks, mapping… the whole process was very noisy."
Add in programmatic exchanges and that can add to the fragmentation, says McDonald. Campsite, Vistar and Hivestack are the tree main players from a DSP standpoint, and none of them have access to every vendor. Hivestack, for example, has exclusive access to Outfront Media and access to Astral Media. But, says McDonald, "if we wanted to also access Pattison, we'd have to [separately] call up Campsite. And then there's a half-dozen smaller companies that are working with one or two of the three [suppliers]. We have to work with at least three DSPs, which is very time-consuming."
Now, with the new proprietary tool created, Kinetic will be working exclusively with Hivestack. And McDonald isn't worried that this will turn off clients or shut out other vendors. "Initially it felt a little risky," he says. "In a world where [a client] doesn't have access to Cineplex or Branded Cities or Pattison… we wouldn't be doing the best thing for our clients. But from Hivestack's standpoint, the exciting thing is being able to leverage our clients. We feel much more confident after the conversations we've had [with other suppliers]."
The buying tool will also have custom mapping which includes various factors like demographic and mobile data, courtesy of both MiQ and Environics. Data can be factual, such as transit routes and store locations, as well as demographic, using shopper data from Environics coupled with footfall data from MiQ, which can better measure attribution.
For example, a retailer would be able to see a map of all of its locations, as well as its competitors. The client would then be able to view data on people who are likely customers — such as households with high rates of spend in specific product categories (which appears in a heat map form). It would then factor in the available OOH faces — 130,000 across 66 suppliers — and info on the billboards such as circulation, physical specs, directions they face and photos of the boards.
Clydesdale says, at first, some were worried it would "commoditize" OOH, creating preference toward spectacular digital boards in heavy foot traffic areas. But through testing, she says, the agency has found that it's the opposite. "The goal is really to move away from the 'spray and pray' digital out-of-home ways of the past," she says.
There are different values in different kinds of boards, she says. For example, a QSR might find that instead of spending its money on all of the digital boards within 200 metres of a location, it should instead activate on a static face that falls near a residential neighbourhood with a high rate of spending on QSR.
Clydesdale and GroupM CEO Stuart Garvie agreed that this data isn't just useful to clients, but also to vendors, because it can help identify what boards perform best.
"I've been listening to a lot of conversations lately about, 'What are the point of agencies?'" says Garvie. "This is the point. Clients want a holistic view — one platform so you can see your whole buy. It's exactly what we should be giving."
McDonald says the agency and its partners have been working on the project for months, and expects the tool to be ready to activate in four to six weeks.