People Moves: OverActive, FirmDecisions
Two media and marketing veterans have joined the fledgling e-sports company.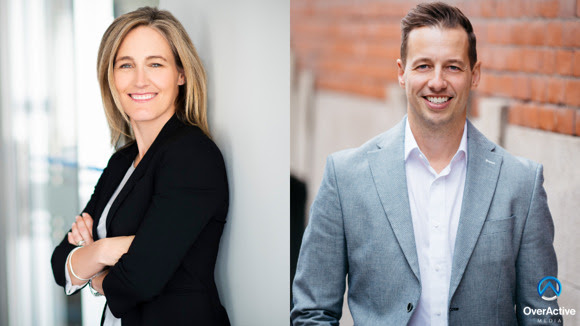 OverActive hires from Bell Media, Nike
OverActive Media added two media and marketing vets to head up its business and partnership operations. The e-sports media company hired Alyson Walker and Tyler Keenan in its Toronto office. Walker previously served as VP of brand partnerships and client strategy Bell Media, while Keenan was a brand leader at Nike. Walker will serve as SVP of business, focused on growing the company's presence in the Canadian market and beyond. Keenan, meanwhile, handle partnerships and sponsorships. His background includes client and agency experience, and he has managed business for Coca-Cola, P&G, Labatt and others.
Former Starcom SVP goes to FirmDecisions
Marketing compliance specialist company FirmDecisions has opened an outpost in Toronto, as well as one in Dubai, marking the fourteenth and fifteenth offices for the company. In the Canadian HQ, Patricia McGregor has been tapped. McGregor has a strong media background, having previously served as SVP and group media director at Starcom. Her new role at FirmDecisions will help advertisers become more transparent through all aspects of media trading, particularly in programmatic.
NBA Canada pulled partnership vet into the top circle
After a landmark year, NBA Canada has announced that it will usher in a new managing director. Leah MacNab, who currently heads up global marketing partnerships for the association, will take the place of Dan MacKenzie. MacKenzie is stepping down effective August 15 to become the first full-time president of the Canadian Hockey League. In recent years, McNab has been instrumental in securing some of NBA Canada's biggest partnerships, and also created last year's NBA Canada Partner Summit. MacNab will now expand her mandate to oversee more business operations.