Spotted! How a tiny stadium makes a big financial point
Wealthsimple takes a different approach to secure the naming rights on its very own Tiny Stadium more in line with what it offers its clients.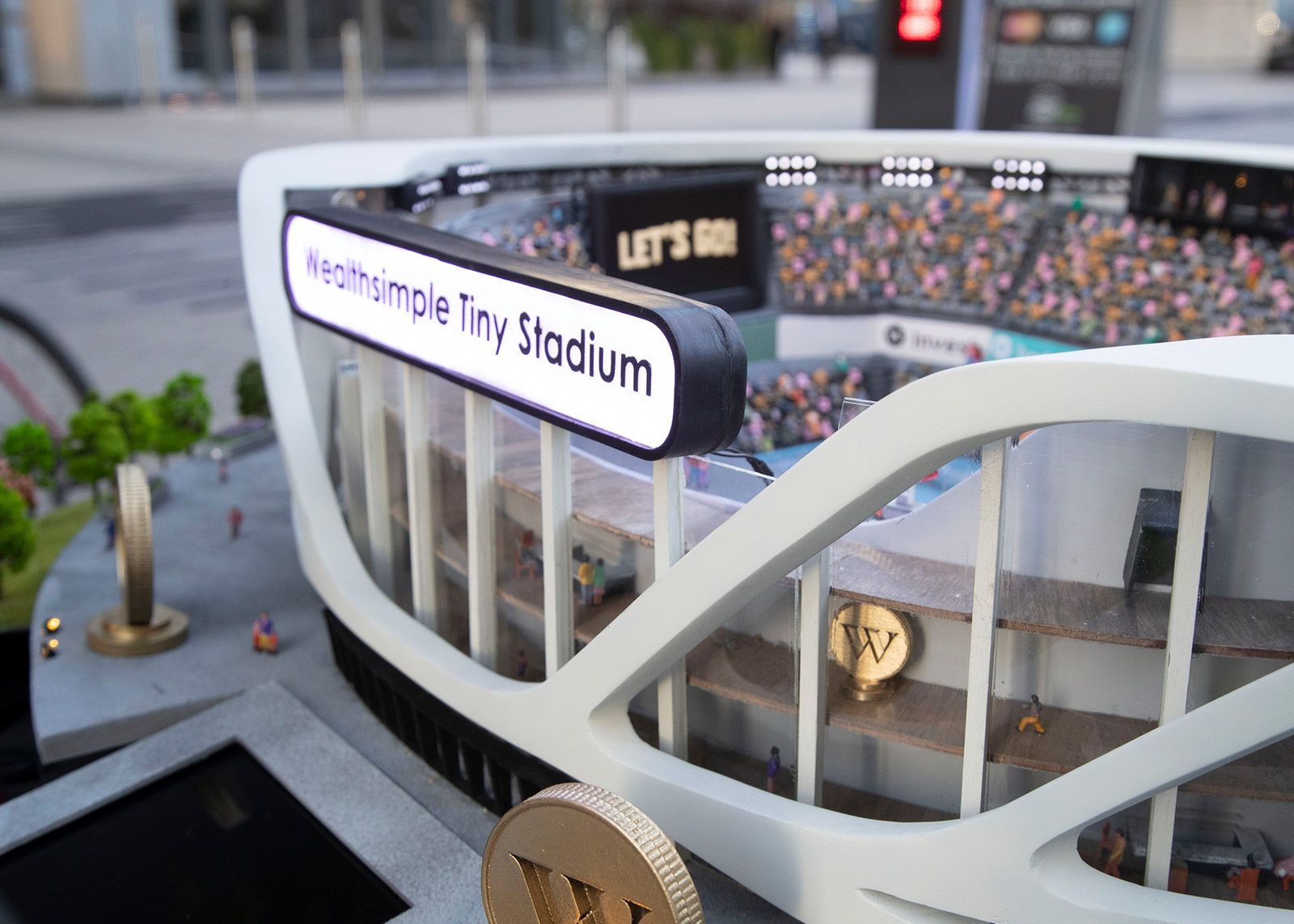 Nailing down the rights to put your company's name on a stadium is an expensive move – one that often falls in the hundreds of millions.
Fintech company Wealthsimple believes that this doesn't always yield great reward for brands, so the company took the idea into its own hands designing and sponsoring a tiny stadium to reflect the "tiny fraction" of fees it charges its clients.
"It's meant to be really funny," Mike Giepert, executive creative director for Wealthsimple tells MiC of the two-phase announcement.
When Wealthsimple founder Michael Katchen announced last week on LinkedIn that the company had acquired the naming rights to an unspecified Toronto stadium, the internet was abuzz with speculation – would an existing property be re-named? Or would a new stadium be built? And what sport was Wealthsimple looking to put its sponsorship dollars behind: soccer? E-sports? And was a five-year-old company really looking to join the ranks of Scoatiabank and BMO by putting its name on a stadium?
It did – technically. The interactive Wealthsimple Tiny Stadium is a 5′ by 3′ model complete with tiny jumbotrons sitting above tiny fans equipped with wi-fi and a courtside camera wired to an iPad. Visitors can snap a photo overlooking the tiny action where the ratio makes one feel more like Godzilla peering in, putting into perspective a client's relationship with banks, which can often feel like behemoth corporations.
Without a sizable advertising budget, Giepert says the team has to be smart with the way it spends in order to get people's attention. "We always try to be really experimental in the advertising that we do," he says. "It's lighthearted, it's tongue-in-cheek."
Just south of the CN Tower, Wealthsimple Tiny Stadium is nestled between Scotiabank Arena and Rogers Centre, just outside Ripley's Aquarium of Canada. The location, Giepert says, rife with foot traffic this time of year, was chosen to attract the eyes of the various demographics circling through: tourists, families, etc.
When Wealthsimple came on the scene in 2014, its offering seemed to resonate with Millennials who were "tech forward," Giepert explains, but what that generation requires of a financial service now, has changed as their lives have. Still, he says, as Wealthsimple also grows, "we're standing with who our core audience is."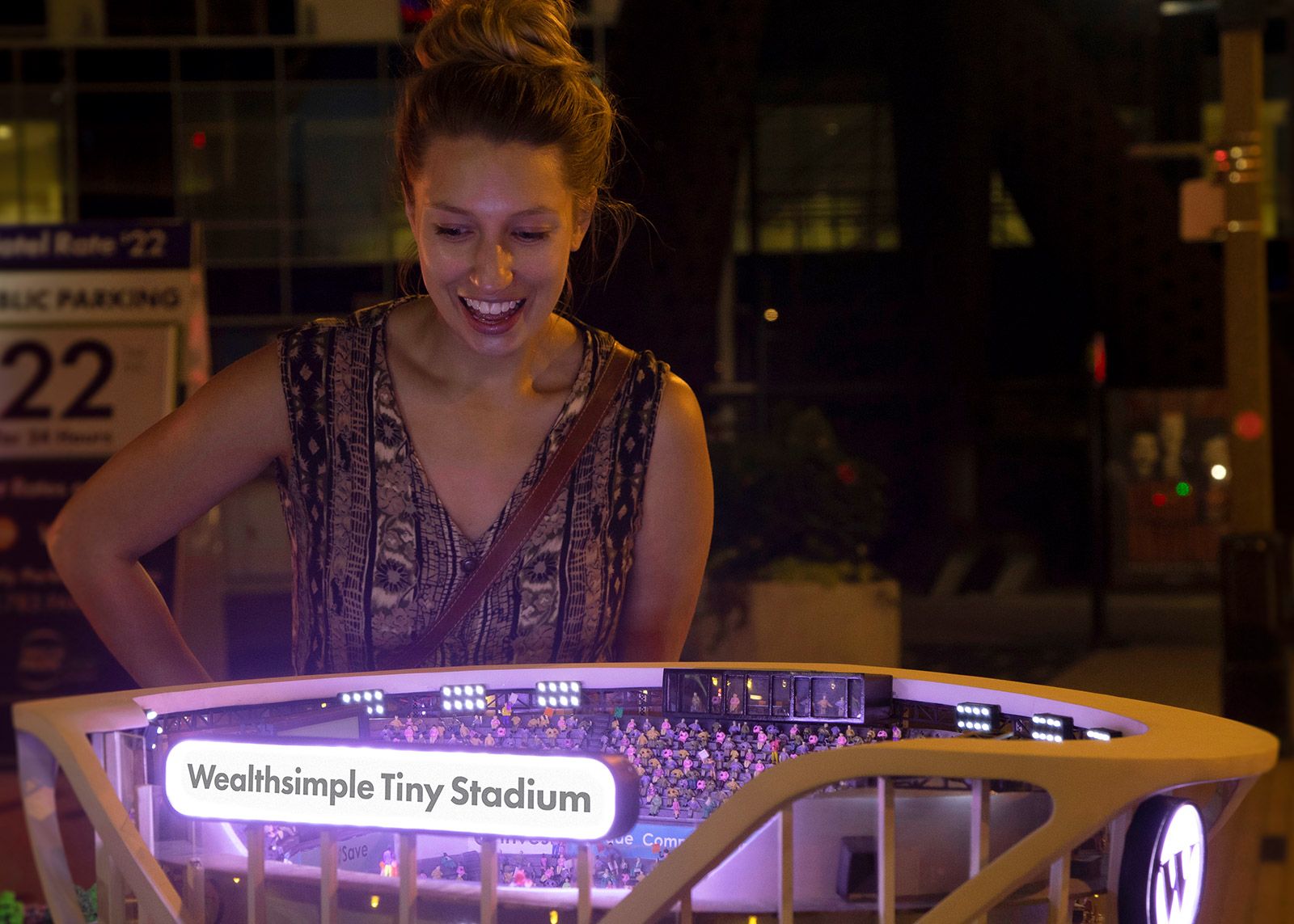 With thousands of LED lights, the Tiny Stadium is on view each afternoon and lights up each evening until Aug. 24. Zombie Meat Studio, a Toronto-based movie prop production studio constructed the piece and Photobooth TO wired the camera integration. Visitors can enter their phone number to have the images sent via text, to upload to social media using #TinyStadium.
At its core, Wealthsimple's goal is to have "as human and honest of a conversation around money as possible," Money is a difficult topic to approach, he explains, so the key with the Tiny Stadium activation is getting people to think about their financial situation in a way they haven't before. "If we can come at it from a different angle like making somebody laugh," he says, "I think that's a positive for us."