What's the opportunity for sponsors at Just for Laughs?
A new study shows how fans value the event, as well as sponsors involved – and how it compares to the likes of the Grammys and TIFF.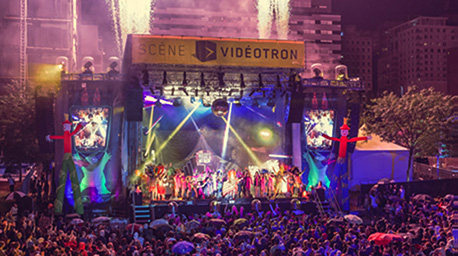 A new study from SponsorPulse has zeroed in on the impact – and advertising potential – of Canadian comedy institution Just For Laughs.
The study is part of a new initiative from IMI International, which recently introduced an instant reports feature for clients. The platform specializes in providing meaningful metrics for sponsor-friendly properties such as sports, music festivals and, in this case, comedy.
The findings show that that 49% of Canadians (12.44 million) engaged with the festival in some way over the past 12 months. In terms of intensity, 27% of those people (3.36 million) engaged on a weekly basis or more, resulting in more frequent opportunities for advertisers. As for momentum, 29% (3.61 million) expected their interest in the festival to grow in the next 12 months.
Further exploring under the concept of behaviour, the report found 7.22 million people engaging did so through live television while 2.36 million were watching online, 1.24 million followed news events and 870,000 followed on social media.
How did people feel about JFL? SponsorPulse found when it came to emotion, 16% were passionate while 46% were excited.
In terms of impact, 10% were found to be likely to make a purchase as a direct result of being exposed to a sponsor and 9% were found to be favourable toward a particular brand or service as a result of its sponsorship.
Based on the data, each property receives an "opportunity score" and a SponsorPulse "rank." In the case of JFL, its opportunity score came in at 28 and its rank at 15. Those numbers, says global lead Adam Mitchell, help provide "immediate context" when weighing properties against one another. For example, in Canada the NHL' opportunity score is 56, making it the top investment property. For context, events like the Toronto International Film Festival or The Grammy Awards landed an opportunity score of 19.
JFL is a unique study, Mitchell explains, because despite its multifaceted nature, the property is often overlooked when it comes to sponsorship opportunities. "Some people look at it simply as a festival, some people look at it simply as a media property," he explains, "But the reality is what JFL has built is really an impressive sweep of different connection points."
The sheer size and magnitude of JFL's offerings surprise most people, he continues, but breaking down the data comprised from SponsorPulse "starts to tell a different story" for prospective investment. But,  as one starts to filter data by region, demographic or category, opportunity scores start to fluctuate, Mitchell reminds.
IMI's Canadian data was taken from 1,800 respondents each month for the past year. It also has global data from 4,200 people monthly. The total sample for JFL was 4,074 per the report.