ICYMI: Sportsnet changes it up, Videotron launches IPTV service
Plus, Twitter tells Canadians what hashtags they favour most and OUTtv teams up with Vice to for a makeover series with the trans community.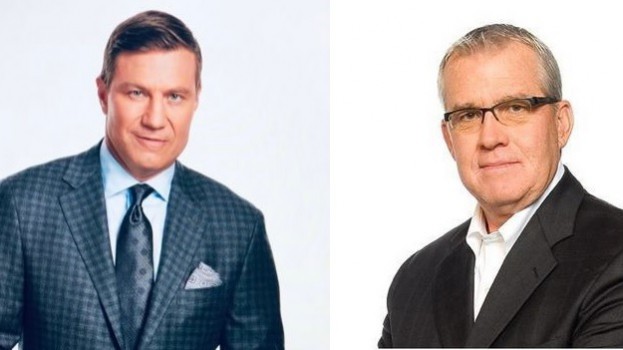 Videotron launches new on-demand platform
Quebec telecommunications company Videotron this week unveiled Helix, a new on-demand television platform for its subscribers. The voice-activated "entertainment and life management experience" brings content from various sources (linear TV channels, Netflix, Club Illico and more) to provide users with suggestions. The platform can be activated through two mobile apps, Helix and Helix Fi with English and French options.
Sportsnet parts ways with veteran broadcasters
Two veteran Sportsnet broadcasters are leaving the network after decades hosting hockey coverage for the network. Former NHL-er Nick Kypreos (pictured above left), an analyst with Sportsnet since its inception in 1998 and Doug Maclean (pictured above right), a 10-year veteran of the broadcaster both announced their leaving via Twitter statements. Veteran sports reporter John Shannon reportedly also parted ways with the broadcaster. In June, Bob McCown announced he'd left Sportsnet after 30 years hosting radio show, Prime Time Sports.
Twitter celebrates #HashtagDay
To mark the official celebration of the hashtag, invented Aug. 23, 2007 by Silicon Valley product designer Chris Messina, Twitter compiled a list of the most frequently used hashtags by country. In 2019, the Canadian top-five included #BellLetsTalk, #cdnpoli, #WeTheNorth, #Toronto and #onpoli. When broken down by category, for example, television, Canadians typed #GameOfThrones the most, and #CanadaDay when it came to holidays. Other notable hashtags in Canuck country include weather related #abstorm and #MMIWG which drew attention to Indigenous conversations on the platform, particularly surrounding the thousands of Missing and Murdered Indigenous Women and Girls.
OUTtv and Vice launches makeover series for trans folks
A new reality makeover series from LGBTQ TV channel OUTtv and Vice Studios, Clothes Minded, has its sights set on the trans and gender nonconforming community. Casting from across North America, the show is set to debut in 2020, preparing participants for important life events by helping them find an "authentic way to represent and connect with their true selves." OUTtv CEO Brad Danks, called the series the "natural next step for us in original programming."