Global shakes things up with new fall lineup
Longtime faves get new timeslots, Wednesday and Thursday bring the laughs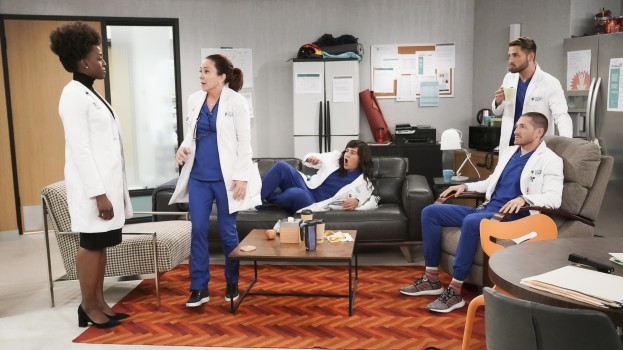 With beloved hit favourites and hotly-anticipated debuts, Global announced its fall lineup this week.
Officially, the Sept. 16 premiere of A Little Late with Lilly Singh kicks things off, followed by a primetime special with the YouTube star turned late night host at 10 p.m. on Sept. 18.
The rest of premiere season gets underway Sept. 23 with dark psychological thriller-drama Prodigal Son in the 9 p.m. slot. Monday evenings will see 9-1-1 move to the 8 p.m. time slot and The Neighborhood now airing at 7:30 p.m. Bull rounds out the evening at 10 p.m. Tuesday evenings remain unchanged with a steady lineup of procedurals. NCIS: New Orleans kicks off at 7 p.m. followed by NCIS, FBI and last year's successful hospital drama New Amsterdam.
Single Parents brings season two to viewers on Wednesdays starting Sept. 25 at 7 p.m. before it moves to its regularly scheduled 9:30 p.m. airing, Oct. 2. The 11th and final season of Modern Family (which migrated over from Citytv) debuts at 7:30 p.m. before sliding into its regular 9 p.m. slot (also Oct. 2) and reality series Survivor which kicks off with a 90-minute premiere episode at 8 p.m. At 10 p.m. S.W.A.T. moves to a new day.
Three new additions shake up the Thursday night lineup as Superstore kicks off a two-hour comedy block in the 8 p.m. slot followed by new single dad series, The Unicorn at 8:30 p.m. Cult classic The Good Place moves to 9 p.m. and the Patricia Heaton-driven hospital sitcom, Carol's Second Act takes 9:30 p.m. The new Michelle and Robert King series Evil rounds out the night at 10 p.m.
On Fridays, Hawaii Five-O is in a new time slot at 8 p.m. and starting Oct. 4, The Blacklist returns at 9 p.m., SEAL Team moves to a new day and time at 10 p.m. In the late night block, Sneaker Shopping debuts on a broadcast network at 1:05 a.m. Fellow web series Hot Ones, hosted by Sean Evans, also makes its broadcast debut Sept. 28 at 1 a.m. Both Sneaker Shopping and Hot Ones are the result of Corus' partnership with web giant Complex Networks. Those premieres tail Saturday Night Live, kicking off its 45th season with host Woody Harrelson and musical guest, Billie Eilish.
On Sept. 29 NCIS: Los Angeles returns to its 9 p.m. slot and on Oct. 6, Tiffany Haddish brings her hosting skills to the premiere of Kids Say the Darndest Things followed by the return of Madam Secretary at 9 p.m.
Global will once again play host to the 2019 CCMA Awards Sept. 8 at 9 p.m. with a red-carpet special brought to you by the team at ET Canada who kicked off their 15th season, Tuesday. Global's The Morning Show is also back Sept. 3 and The Rachael Ray Show returns Sept. 9 followed by the The Talk, who welcomes Marie Osmond to the table for its 10th season following the departure of Sara Gilbert. Rounding out the morning, broadcast journalist Tamron Hall launches her own self-titled talk show.