PWHPA signs first sponsors, gets a live stream deal
Budweiser and Unifor are among the first national brands to sign up as Professional Women's Hockey Players' Association sponsors.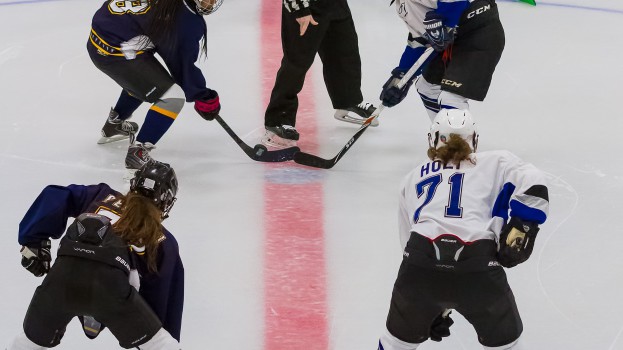 The Professional Women's Hockey Players' Association (PWHPA) has an official name for the Toronto stopover of its Dream Gap Tour – and an official beer sponsor.
The PWHPA and the Dream Gap Tour were established following the shuttering of the Canadian Women's Hockey League (CWHL) earlier this year. The association is aiming to provide an outlet for female players and advocate for a new, financially sustainable league for them to play in. The tour, which kicks off Sept. 21 at Toronto's Westwood Arena, will feature well-known players such as Hilary Knight, Marie-Philip Poulin, Brianna Decker, Natalie Spooner and others.
It will also feature Unifor and Budweiser, both of which will play prominent sponsorship roles. General trade union Unifor Canada will serve as the title sponsor of the Toronto stop, which is hereby known as the Unifor Women's Hockey Showcase.
Unifor does engage in some paid media to promote its union and the causes it aligns with, although sponsorship is not as common a venture for the union. However, president Jerry Dias said in a statement that the partnership aligns with Unifor because of the PWHPA's aim to create equity for Canada's elite female hockey players.
With a sponsorship expanding beyond the Toronto stop, Budweiser will also become the PWHPA's official beer. On top of taking an experiential approach by hosting a VIP kickoff party in Toronto on Sept. 22 and choosing a Budweiser Fan of the Game to win a prize, it will sponsor live streams of the four-game tournament for those who can't be there in person. Budweiser has long aligned with hockey, and Mike D'Agostini, director of marketing at Budweiser Canada, says it wants to help correct the fact that the world's greatest female hockey players don't have a league to call home – and create more commercial opportunities.
In addition to Toronto here in Canada, the tour will visit New Hampshire and Chicago in the U.S. in October.
PWHPA is continuing to engage with potential sponsors, with available activations including experiential work and jersey patches.
Chelsea Purcell, who heads Canadian sponsorship for PWHPA, says that although staying afloat throughout the year through sponsorships is a goal, the overall mission of the PWHPA is not to be a long-term thing, but rather to serve as a bridge to a more sustainable league.
"We're really hoping the NHL steps up," she told MiC in an earlier interview, adding that she hopes the league will witness the enthusiasm audiences and sponsors have for the association and present a plan to create a league for female players in which they have plentiful playing opportunities and competitive pay.
She said sponsors have plenty of opportunity to get in at a grassroots level, which can build better affinity with fans. "You're working with the top women in the world, and yet they're so accessible, versus what a professional male counterpart would be… Everybody is watching and wondering, who's going to step up to support this?"