Directors Guild targets Hollywood with paid campaign
In alignment with TIFF, the Directors Guild of Canada launches 'Hey, Hollywood' its first major ad initiative to promote homegrown talent.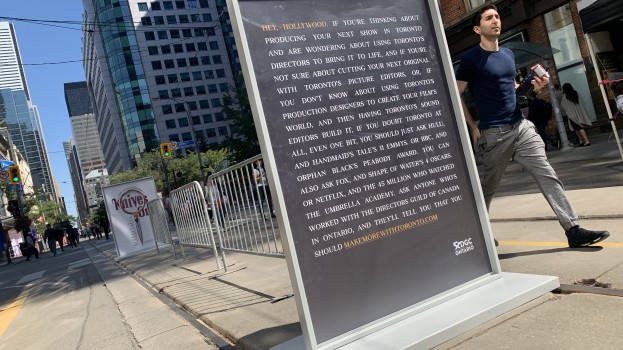 There is a lot going on brand-wise as advertisers make their mark across the city this month for the Toronto International Film Festival, but one campaign is targeting very specific visitors with a very specific message: "Make more with Toronto."
Titled, "Hey, Hollywood" the campaign from the Ontario arm of the Directors Guild of Canada gets right to the point challenging L.A.'s finest to own up to their lack of working with Canadian talent.
"The messaging is a little tongue-in-cheek." Alan Goluboff, chair of the DGC Ontario executive board said in a statement. Besides a physical presence at the festival, a traditional OOH buy was executed with billboards along the QEW and the arrivals terminal at the Toronto Pearson International Airport. The creative reads: "Hey, Warner Bros. Wondering if you should produce your next picture with Toronto directors? Just ask Hulu. And Handmaid's Tale's 11 Emmys."
This marks the first major paid media initiative for DGC Ontario, which traditionally gets this message out through face-to-face meetings at major international festivals. While the campaign has a bit of sass to it, Goluboff said it's really just a reminder of who and what Canada has to offer. "They should remember that we've got talent sought after by the biggest names in film and television."
Despite some of the industry's biggest awards under their belt, the Guild's 5,000 members (2,500 of whom are based in Ontario) aren't the ones whose phones are ringing. The Guild represents creatives who took home Academy Awards for The Shape of Water and Emmy nods for Game of Thrones and Schitt's Creek, among others.
In addition to the out-of-home, banner and social media ads launched Aug. 20 in Toronto and L.A., geo-fencing major U.S. studios to target executives. And, a website titled, MakeMoreWithToronto.com encourages the industry to "make all new kinds of amazing when you work with Toronto talent." Click further and slide through mini-profiles highlighting the work of award-winning directors, production designers, picture and sound editors.
Creative for the campaign, running until the end of TIFF Sept. 15, was done by Toronto-based agency, Juliet.