TheScore creates a custom ad unit for DAZN
The mobile sports media company says it sees a bright future working more closely with DAZN and its AORs, creating more custom media opportunities.
A new campaign to drive brand awareness for sports streamer DAZN has led to a new type of ad on theScore.
The sports-centered Canadian mobile media company first partnered with DAZN earlier this month to create a new native ad format to direct soccer and football fans directly to DAZN's sign-up page. Alongside the match profile in the app, a "Watch Now" button is embedded, which will take users from theScore's app to DAZN.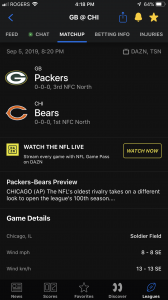 The units have been spaced between theScore's popular box score features and matchup pages for both soccer and football in order to drive awareness of DAZN's livestreaming of NFL content and the English Premier League and Champions League Soccer.
Bradley Karelson, sales director, brand and agency partnerships at theScore, tells MiC the placement of the ads helps DAZN capitalize on user behaviour. "The match-up and score pages happen to be where our users are most engaged with soccer and NFL content, so it's a natural intersection where engagement is high and you're as close as possible to watching the game live."
TheScore has indeed worked with DAZN in the past, although Karelson says the work has mostly been through direct ad sales and pre-existing ad formats. This ad format, however, is different – and he sees it as an indication of big things to come. "This is really transforming our relationship into a partnership, so we're now having conversations directly with DAZN and their AORs to see how we can take that further."
The media partnership was brokered through DAZN's media AOR, Dentsu X, with creative by Grip. The partnership will last until the end of this calendar year.
DAZN first hit the scene in Canada in 2017 to much fanfare and anticipation – the industry was quick to label it "the Netflix of sports" after it picked up a slew of exclusivity rights to NFL content, becoming (at launch) the only destination where Canadians could watch every NFL game. But the fanfare quickly fizzled when the service eventually went live and the poor feedback started rolling in, largely related to its stream quality and audio sync problems. The company eventually struck a sub-licensing deal with several BDUs to restore linear access to some key packages, on top of making commitments to improve its service.
Since then, DAZN has diversified its sports content somewhat, making major investments in soccer, as well as partnering with the CBC to stream the Commonwealth Games. Its acquisition of the rights to Premier League Soccer are exclusive – and unlike with football, DAZN Canada told MiC it has no immediate plans to sub-license the rights.
DAZN does not make its subscriber numbers public. This past quarter, theScore saw 395 million average monthly user sessions, with the average user opening the app 102 times per month. This contributed to $8.5 million in revenue in 2019 Q3.