SkipTheDishes dives into biggest OOH buy ever
Marketing director Kendall Bishop says the brand has changed its approach to OOH, going for high-profile over high-frequency.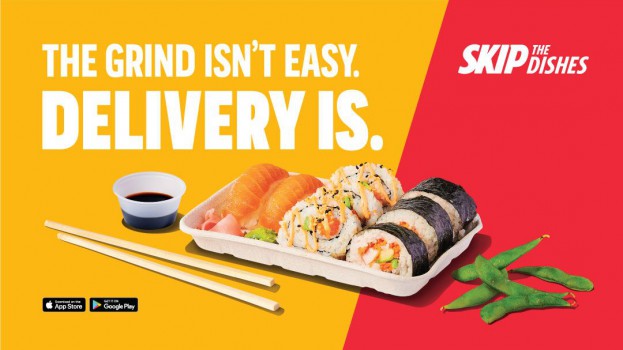 SkipTheDishes is entering new territory – the underground.
The meal delivery service launched a major OOH campaign last week, its first-ever TTC subway domination at the high-traffic Dundas Station in Toronto's busy downtown core.
The creative, according to Kendall Bishop, director of marketing for SkipTheDishes, is colourful and vibrant and aims to immerse subway riders in a "sense of fun and entertainment," while also getting clear talking points across.
Those talking points are that of national leadership. According to Skip's own research, which involves a study commissioned in recent weeks, Skip is the most popular food delivery app in Canada. That claim is tough to verify as few of the apps make their specific market stats public. However, a recent BrandSpark survey of Canadian consumers found Skip to be the most trusted among food delivery apps. An Angus Reid survey found that food delivery app usage is highest in Saskatchewan (where 42% of respondents have used the services), Manitoba (37%) and Alberta (35%), where the Winnipeg-headquartered Skip had the first foothold.
With that in mind, Bishop said it was time to launch "the biggest, most bad-ass out-of-home activation." She says it's the largest OOH buy the brand has ever done, "Not only in Toronto but in Canada." It's a four-week media buy, brokered by Skip's AOR, True Media.
The brand chose a subway takeover to target a different kind of customer than the one reached with its usual messaging. "We've spent a lot of our past paid media attention really speaking to those who commute by car, buying a ton of out-of-home posters of all different sizes. But one of our key demos is also the really busy downtowners who commute and use other forms of transportration. This station domination was the right way to immerse this group."
Skip has been around the longest of all the major meal delivery services – it launched in 2012, three years ahead of rivals Uber Eats, Foodora and DoorDash (it's also the only one of those four that is Canadian-owned). Of the mainstream apps, it's also notably invested in traditional media.
For Skip, the big player is TV. "You'll rarely find a time period in the year when our broadcast spots aren't out," says Bishop, although the scale of the buy depends on the season. But fall is the start of busy season for Skip.
"The less comfortable it is outside, the more people are willing to pay to have food delivered," she says, adding that activity really ramps up in the height of winter. In the summer, marketing gets more about experiential, sampling and on-the-ground activity. But for the most part, TV and radio carry the weight of Skip's media strategy.
In fact, Bishop says, the OOH buy serves double duty – to build anticipation for the next iteration of its TV campaign. She can't reveal much about it at the moment, but she says it's concentrated in Toronto and also focuses on "high-profile creative" that demands attention – fitting with Skip's pivoting OOH strategy.
"It's really pivoted from buying enough faces to draw frequency of messaging to focusing on buying high-profile faces."