ICYMI: Metrolinx pulls back curtain on GO sponsorships
Plus, Postmedia refinancing officially closes and Friends of Canadian Broadcasting call on leaders to change tax act.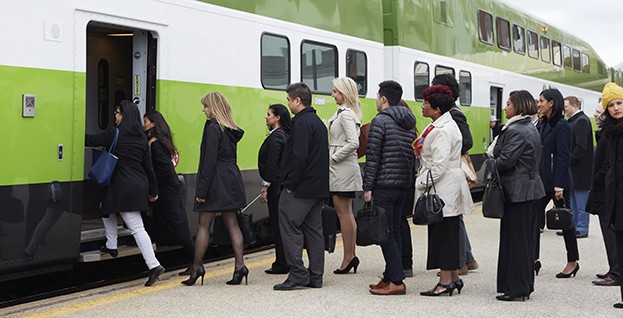 Metrolinx reveals more about potential GO sponsorships
Metrolinx has confirmed that it will seek proposals from interested advertisers in station naming rights for some of its GO stations. Stations eligible for naming rights sales are on the Lakeshore East and West lines, the most popular lines of GO's train services. Whitby, Pickering, Exhibition, Clarkson and Oakville are among the first to be considered, although Metrolinx says it will examine proposals for other stations at the request of interested parties. Naming rights will apply for a minimum of five years and a maximum of 10. For partners, they will receive category exclusivity for select stations, opportunities to provide co-branding opportunities with GO, the right to use GO Transit's branding, logo and imagery in marketing promotions and opportunities for experiential activation such as branded areas within buildings, retail space (permanent or pop-up) and other onsite promotions.
Postmedia refinancing becomes official
Postmedia has officially closed its previously announced refinancing transaction. The transaction sees Postmedia retire its first lien notes through the issuances of $95.2 million to Richmond Hill's Canso Investment Counsel Ltd. Similar to its previous debt, the deal has an interest rate of 8.25%. Since late 2016, Postmedia has paid down just shy of 60% of its $225 million in first lien notes, which previously had a maturity of July 2021. The new deal is set to come to maturity on July 15, 2023. CEO Andrea MacLeod told MiC at the time he's confident the company, which has been growing its digital business, can thrive in the future. "We will stay in this business as long as it's viable. We're good at it, we have the infrastructure to support it… We've paid down debt, we've grown digital and we continue to be efficient in our legacy business. All those let us go to our stakeholders and ask to extend."
Advocates call on federal leaders to alter tax act
Friends of Canadian Broadcasting have launched an online petition asking Prime Minister Justin Trudeau, Green party leader Elizabeth May, NDP leader Jagmeet Singh and Conservative leader Andrew Scheer to officially commit to "stop subsidizing Facebook" and close what it says is an in internet advertising "tax loophole" that it says gives the U.S. digital company an unfair advantage. The "loophole" in question refers to Section 19 of the Income Tax act which prohibits Canadian companies from deducting the cost of U.S. TV, radio and print ads, but does allow them to deduct the full cost of foreign digital ads. "Journalism is dying and it's not a natural death," the petition reads. The group has also purchased a series of digital radio ads to spread the message. Friends of Canadian Broadcasting have advocated for the change in the past, although no commitments have been made by the federal government.