CTV spends big for national fall campaign
The broadcaster invests in targeted markets, promoting more new shows than previous years.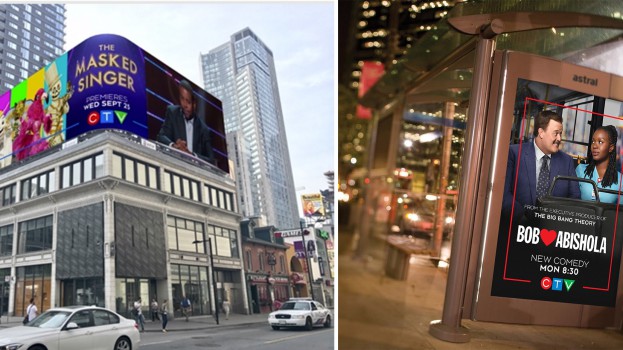 A new national campaign for CTV's fall lineup is the largest media spend for the broadcaster in years, increasing its investment as well as the number of shows promoted.
Created and designed in-house by the Bell Media Agency, the campaign will run from September into November. The creative will bring back the "Get Into It" messaging that premiered last year.
Strategically, Matthew Cowling, director of marketing, English TV, radio and digital for CTV tells MiC the team assessed previous fall campaigns to identify key markets where they saw an opportunity to grow viewership. Regionally, it will have a heavy presence in Ontario, Alberta and B.C. "We are targeting audiences in certain markets with specific programming," he says.
In Calgary and Edmonton, CTV executed a "high-impact" transit out-of-home play with train wraps, bus murals and posters. In Vancouver, the fall schedule can be read of digital boards and transit posters and in Toronto, TTC subway, streetcar and bus wraps appear alongside murals, transit shelter ads, branded signature columns and a full motion digital display at Yonge-Dundas Square.
"In terms of scale we are on TV, radio, digital and social platforms, out-of-home and on screens nationally in Cineplex and Tom Hortons stores," Cowling adds.
Conversational promos will run on-air during premiere week (kicking off Sept. 23) with spots on CTV's entertainment show etalk, countdowns and new brand ID featuring CTV stars. Digitally, takeovers and targeted pre-roll ads will run on platforms and across social media.
CTV is no longer home to the biggest show on television, with The Big Bang Theory (which served as one of the headliners for last year's iteration of the "Get Into It" campaign) concluding its run this past spring. But the most recent Upfronts saw CTV pick up series starring the likes of Cobie Smulders, Simone Missick and Emily Osment, not to mention the all-star cast of The Masked Singer (which includes host Nick Cannon and judges Robin Thicke, Nicole Scherzinger, Ken Jeong and Jenny McCarthy). Now, says Cowling, the network just needs to introduce the new shows.
"This fall, CTV has seven new programs and returning hit shows on the schedule so there is a lot to communicate to our audience," says Cowling.