Metrolinx eyes growth as a media property
The transit agency is looking beyond naming rights, mulling everything from co-branding to entertaining pop-ups.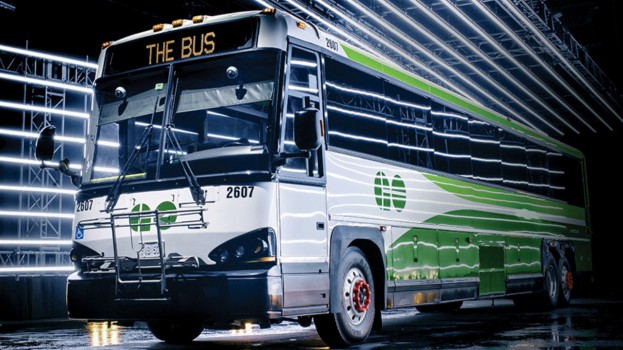 Provincial transit agency Metrolinx, which operates regional transit outfit GO Transit, as well as the Union Pearson (UP) Express and payment system Presto, hosted an information session Sept. 18 to give deeper insights into its evolving business strategy and receive feedback from potential partners.
With a subdued presentation of facts and figures about ridership and even an earnest presentation about safety to open the session, one might have gotten the idea that the day was simply a state of the business for Metrolinx. But as the presentation went on, the event turned heavily media-focused – fitting with the crowd, which consisted mainly of marketers, representatives from creative and media agencies and media vendors.
The morning featured a rundown of Metrolinx's evolving business model – which, CEO Phil Verster pointed out is to operate like a business and "not a government bureaucracy" – before launching a sponsorship-focused panel moderated by Ipsos COO Steve Levy, T1 Agency president and CEO Mark Harrison, Scotiabank international sponsorship director Nelson Lanza and Publicis sports and entertainment VP Jana Masiewich.
The event comes weeks after the somewhat controversial proposal by the Ontario PC Government to sell the naming rights to GO stations, announced this past August. Although the official opposition questioned the move, Metrolinx has confirmed that it will seek proposals from interested advertisers in station naming rights for certain stations along the Lakeshore East and West lines (Whitby, Pickering, Exhibition, Clarkson and Oakville). It will also examine proposals for other stations at the request of potential sponsors.
But yesterday's event went beyond the issue of naming rights, a sign that Metrolinx is diving full force into media efforts. Here are some of the takeaways from the event:
1. Riders equal audience – and GO wants more.
Throughout the day, Verster and CMO Mark Childs spoke of GO's ridership the same way TV, radio and digital platforms speak of their audiences. And if ridership is audience, then GO's audience is growing faster than most other offline media.
Currently, GO averages 76 million in ridership per year, with 275,000 trips per average weekday. This past year, GO recorded ridership growth of 5.3%, which Childs expects to continue. Presto transacts $2 billion per year from 3.9 million unique cards, and 70% of GO riders use Presto. On the UP Express, which already has a long-term sponsorship deal with CIBC at its terminals, there are 3.9 million annual trips.
With GO having an average dwell time of 40-to-50 minutes, Childs noted that this is a captive audience. Now, he says, the focus is on bringing more people in and finding more ways to serve them.
One initiative he says the agency is examining is variable pricing through Presto, such as slightly lower fares during off-peak hours (like mid-day). Childs and Verster said they haven't worked out a pricing strategy yet, but said they have considered somewhere around two-thirds of a standard trip. That's a follow-up to the agency's "Kids GO Free" initiative, which opened up free rides to children 12 and under. On weekends, Childs said, fares have increased by 17% since the change kicked in. "This opens up so many opportunities to talk with many different segments," Childs said.
2. It's eyeing experiential.
While the idea of naming rights caused a stir in the press, Metrolinx has been in the ad game for some time – static (poster) ads have been sold inside GO Train cars, and vehicles have been wrapped entirely in creative.
But on the panel, Masiewich was adamant that growing ridership does not necessarily coincide with receptiveness to ads, taking specific objection to the term "captive audience."
"They [the riders] have a myriad of ways they can distract themselves on transit," she said, pointing to phones, newspapers and even sleep. "We have to give some credit to the people who are riding. They're not just going to engage with messages because they're there for 40 or 50 minutes."
She said that as an agency partner, she'd want to see a "functional benefit" that adds value, such as WiFi sponsors (Metrolinx has promised free WiFi on GO by spring 2020, and the UP Express already has free WiFi), or even free coffee, as well as things that are "surprising and entertaining." But ultimately, she said, "we need to be thoughtful of what we put in front of them and not just assume they'll look at it because they have to."
Beyond the naming rights (naming rights partners will receive category exclusivity for select stations and opportunities to provide co-branding opportunities), Metrolinx has said it will consider opportunities for experiential activations such as branded areas within buildings, retail space (permanent or pop-up) and other on-site promotions.
3. GO is ramping up its own marketing efforts in kind.
As Metrolinx aims to open up its properties to sponsors, it's also become more active as an advertiser, particularly with experiential. When Childs, the former lead marketer for Samsung, came on board, he said he became focused on making GO seem "friendlier," particularly to families with kids. This summer, he said, GO activated at destinations like Legoland Discovery Centre, the Art gallery of Ontario (AGO) and the Royal Ontario Museum (ROM). "It was a number of good, old-school activations," he said. GO also debuted at the Canada International Auto Show and accompanied the appearance with a digital spot positioning itself as an automotive disruptor in a tongue-in-cheek ad. Last week, it launched a Greater Toronto Area (GTA) media buy featuring digital and OOH ads. It's also appeared at the Canadian National Exhibition (CNE) and Honda Indy.
Panelist Lanza also pointed out that co-branding is especially relevant in a world that is increasingly dependent on public transit. Pointing to last year's co-branding effort that gave free rides on Presto to people attending the Toronto Maple Leafs' home opener (part of Scotiabank's strategy to promote the newly renamed Scotiabank Arena), Lanza said things don't have to be complicated.
"Really, the focus was on just bringing people to the arena… We didn't think we could just get people to stop calling it the [Air Canada Centre] overnight." He said he's eager to explore possible future deals, such as "giving people additional rides to reward certain banking behaviours."