W aims to age down with brand refresh
W has traded in its tea-stained orange look for a more vibrant palette, signifying its shift from outdoor and DIY to dramas.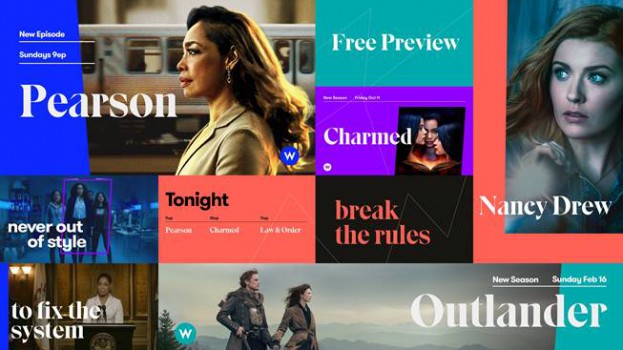 As the seasons change and Canadian fashionistas go through a personal style refresh, Corus specialty network W has done the same.
The new visual brand for W has seen its former logo – an earthy orange circle surrounding the W, last updated in 2015 – swapped out in favour of a more vibrant colour palette. The W logo now appears in front of different colours, ranging from a slightly cooler version of its classic orange to teal, blue and purple. The network's fonts have been updated to a bolder style (still a serif font) while video ads have a thread of colourful animated lines throughout.
Allison Carr, head of specialty network marketing at Corus, tells MiC the rebrand is part of an effort to catch up with W's programming strategy, which has seen some serious evolution over the years.
"We very much built it around a lifestyle brand," says Carr. "Programs like Love it or List it, Property Brothers… But the programming has evolved."
In 2017, Corus shifted much of that style of content over to HGTV and repositioned W as a destination for drama with programs such as Nashville and the military drama Valor. After seeing early success – viewership for W jumped 8% for adults 35 and over and 7% for women 35 and over between the start of 2017 to that May – Corus doubled down. It added popular dramas such as Outlander and The Good Fight, and signed an exclusive content deal with Hallmark,
"We're an evolving industry, so it makes sense to be an evolving brand."
Carr says the programming shifts have had "a tremendous impact" on the W audience. Between August 2018 and 2019, W Network recorded its highest audience in 15 years. According to the CRTC's specialty channel summaries, in 2018 W Network recorded $20.23 million in revenue, up 3.82% from the previous year. Subscriber revenue was up 7.71%, although total subscribers were down slightly, to 6.07 million (down 2.16%). According to Corus, this past broadcast year (measuring August to August) it grew its viewership by 18% in the women aged 25-to-54 demographic.
Carr also added that W is aiming to age down slightly with its new positioning. "We want the brand to feel more modern and current," she says, adding that one element of the creative that has changed reflects a more digital-savvy audience. W's tune-in information, where viewers can see the date and time of the show, is now at the very top of the images and video spots.
"The aim was for it to almost look like when you're on a website and you're looking at a navigation banner. It's an effort to show that we recognize who our audience is."
The new brand identity was designed by an in-house team at Corus.