Tiidal Gaming acquires Space Esports
The acquisition of the LA-based gaming company builds Tiidal's portfolio and drives expansion into live events with more advertising opportunities.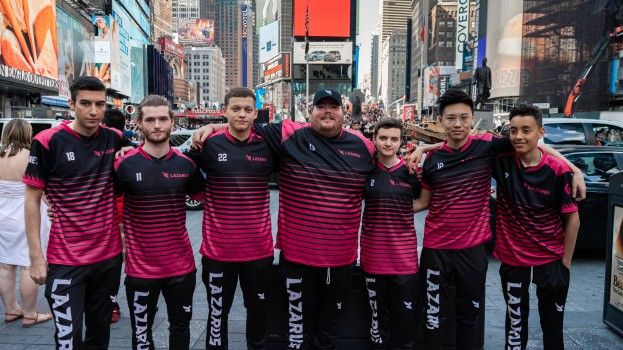 Charlie Watson (centre) poses with members of the Lazarus Esports team at the Fortnite World Cup in New York this past July. 
Toronto-based e-sports and entertainment company Tiidal Gaming has acquired Space Esports, an L.A.-based gaming platform in a move that mirrors the growing popularity of the industry in Canada.
According to Vivintel, e-sports reaches one in 10 Canadians, some 4.4 million people. "We find that expanding every year and that's because of technology," says Charlie Watson, CEO of Tiidal Gaming. L.A. is the "mecca" of e-sports, he says, and bringing a platform like Space Esports to Canada is a strategic tool for it to reach a Millennial and Gen Z audience. "That ever elusive demo that is cutting the cord."
More than 90% of the developers and publishers in the e-sports world work with Space Esports, and that kind of success is easily translatable to prospective advertisers, Watson says. "This allows us to be a full 360 offering to a brand or sponsor."
In March, Tiidal's e-sports management company Lazarus Esports signed a deal with SheIS Collective, focusing on the growth of gaming among women. But, Lazarus can only offer so many opportunities to scale whereas acquiring Space allows Tiidal to market to a different audience with live events, Watson says. Space Esports hosts more than 150 multinational events each year. "As we build out, we look at different opportunities for cross-pollination," he says, adding the deal is a natural fit, allowing Tiidal to reach U.S. markets and build its portfolio.
"There's no secret that live events and online events are something that we want to heavily focus on," he says, noting the acquisition is ultimately about driving revenue beyond a national market. "It's a key piece of what we're doing moving forward."
E-sports is a rapidly growing industry, but Watson says it is also getting more structured. "It is at a really fast pace both on the forefront and the back-end and we're starting to see consolidation in the space." With Space Esports now in the fold, Tiidal will also be able to expand into another tier of gaming.