The Globe launches new national brand platform
'Report on Business Magazine' also gets a refresh with sleeker design and content more focused on strategy and executive leadership.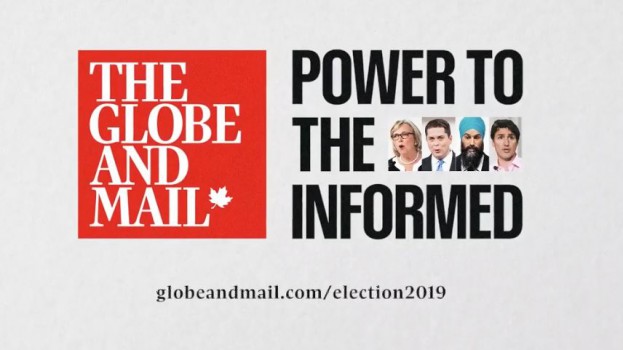 Using the upcoming federal election as a pillar, The Globe and Mail has launched a new brand platform and refreshed one of its iconic properties, Report on Business Magazine under the central theme that information is power.
"Power to the Informed" is a national campaign with out-of-home and cinema spots in three key markets: Toronto, Calgary and Vancouver. "Really what the platform is about, is people with the right info in their hands are primed to make key decisions in their life," says Sean Humphrey, VP of marketing for the Globe.
With a big decision to make Oct. 21, the first phase of the campaign focuses on the upcoming federal election, helping readers to discern between the many voices crowding the media landscape. Editorial to run concurrently will be used in the creative for out-of-home on Pattison and Astral billboards and wild postings. On Oct. 18 all digital units in the GO Transit concourse of Union Station will also promote those assets.
"I think people are looking for empowerment and action in their decisions," says Humphrey, whether that be who to vote for, how to invest, or what sources to trust. "The time of black and white answers to many of these issues is gone, there are many more levels of gray than there ever have been."
"Power to the Informed" also speaks to the new focus of Report on Business Magazine, says Garth Thomas, managing director, business and financial products at The Globe and Mail. After surveying readers and assessing digital engagement, the ROBM team found editorial content offering corporate stories and executive profiles were "by far the greatest drivers from a digital and subscription standpoint."
For the 35-year-old print magazine with a monthly readership of 1.8 million across print and digital, Thomas says the refreshed magazine will focus on covering strategy and leadership, how people are disrupting and dealing with disruption. "Seasoned executives and leaders want more practical solutions," he says, like case studies and business methods based more in the "real world" versus "theory or fads."
The magazine will also feature new rankings including the inaugural "Canada's Top Growing Companies," a list of the 100 top-paid CEOs in the country as well as "CEO of the Year" and a new "Women Lead Here" section looking at gender diversity in the executive ranks. As well, wealth management tested well with readers so a back-page section will be devoted to the concept.
From a design standpoint, the print magazine will have a cleaner and more simplified look, says Thomas. "It's not an easy business and we need to consistently figure out ways to improve and be better."