MD Financial takes its message mass
The financial services company, which targets physicians, brought its brand to the masses to go mainstream.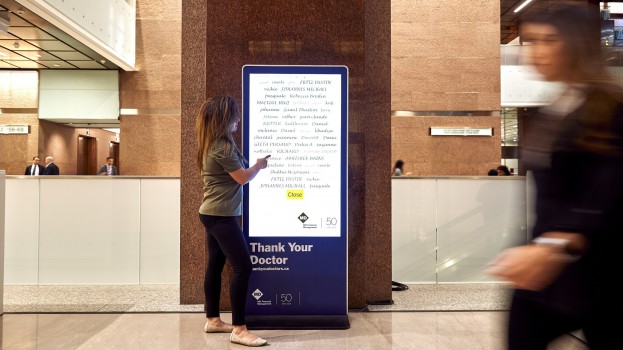 A financial services company that has spent most of its five decades in Canada only targeting doctors is flipping the script with its latest media plan.
MD Financial has launched a national media buy to celebrate its 50-year anniversary.
The bulk of the plan has gone to print advertising in industry and consumer publication, as well as social video, online advertising and OOH. The campaign also includes an experiential component, with interactive kiosks placed in key Canadian locations, like the Financial District in Toronto.
The kiosks feature a digital loop with a video thanking physicians for what they do for society, and at the end ask people to sign their name to a "virtual thank you card." It's part of the campaign's broader message, called "Thank you, doctors."
Shawna Dennis, VP of marketing and communications at MD Financial, explains to MiC that it chose to do mass rather than small-scale, physician-targeted advertising in light of the major milestone. "Life's big milestones are ultimately made possible by physicians, whether it's giving birth, recovering from an injury or going through an illness."
While the experiential component of the kiosks is the heart of the campaign, she says most of the spend went behind digital. "Obviously, we're limited with the kiosks. We can't have them everywhere, but we tried to provide the experience in all the major city centres."
The bank's audience, from a physician perspective, is very small – Dennis says there are around 120,000 physicians across Canada, including residents and retired doctors. While its potential pool for recruiting new customers is small, she says this can serve as a brand awareness play to bring MD Financial's niche services into a mainstream spotlight. The goal is not to recruit new, non-physician clients – MD continues to exclusively serve medial professionals – but to increase awareness of the brand outside its key audience in order to increase understanding of its purpose to the families, friends and patients of its potential clients.
Instagram content is targeted at younger demographics, although she says the Facebook ads resonate more with viewers age 30 to 65.
The campaign went into market in mid-September and lasts one month, although the digital may stretch on longer. The media buy was handled partially internally and partially by PR shop Argyle.