Start, Stop, Change: Buyers evaluate two new media opportunities
Buyers come together to discuss what sponsors need to consider when putting their money behind two emerging properties.
The only constant is change.
Scratch that – the only constant is the intent to change, the desire to change, the will to change. The industry has no shortage of a will to experiment. But sometimes that can feel hampered whether that's by budgets, uncertainty, lack of trust or simply a desire to stick to the dependable "good ol' days."
This September, the spotlight shone on two potential new media opportunities, though neither entity should be considered "new." One is a crucial part of urban day-to-day life, while the other is the most beloved game in Canada – and just happens to be played by different people.
We spoke to different buyers on new ways to look at these properties and whether there's enough fresh potential to truly change up media plans – and if consumers can change their points of view as well.

Is Metrolinx the next big media property?
Advertising on transit is nothing new – municipal transit systems have housed every kind of advertisement, from video screens and interactive, ad-supported maps to local advertiser-friendly posters on vehicles. Metrolinx, the provincial transit agency mainly known for operating GO Transit (as well as the Union-Pearson [UP] Express and the payment system Presto), has dabbled in advertising to a small degree, mainly through on-board posters and station wi-fi sponsors (past sponsors include various snack brands under the Mondelez banner and the City of Toronto).
But that all changed this summer. First, the Ontario provincial government announced that it was considering selling the naming rights to GO Transit stations in a bid for revenue. The move was first announced by Premier Doug Ford and drew ire from some political opponents. Tony Chapman, founder and CEO of Tony Chapman Creations and the former CEO of Capital C, told CARD sister publication MiC that the idea of naming rights being controversial may have been more reactionary than anything, because Ford is, in Chapman's words, a "polarizing figure" and "off-message." Overall, though, Chapman liked the idea of selling station naming rights and diving further into experiential.
Fast-forward several weeks, when Metrolinx released the list of stations it would sell naming rights for (stations along the popular Lakeshore East and West lines) and confirmed that it will also explore advertising opportunities outside of naming rights (one thing it has not released yet is its rates). At a Toronto informational session, CEO Phil Verster and CMO Mark Childs outlined their plans – still broad, in many cases – to create opportunities for brands.
Kristin Wozniak, VP of analytics and insight at Cossette Media, says she sees potential, but expressed some hesitation.
"Advertising that negatively affects the natural flow of the commute – either physically, mentally, or emotionally – is going to feel invasive and therefore unwelcomed," she says.
Beyond the investment, the planning and the creative need to be thoughtful, she says. So how can partners generate the ROI they need? Wozniak argues, "Metrolinx and its partners should focus on supporting executions that complement commuters' mindsets and needs, finding ways to make the journey feel like an enabling, valuable part of their day versus a hindrance."
What does that value add look like? Mike Lang, president of Lang Partnerships Network, says with the massive portfolio of assets under Metrolinx's control – stations, vehicles, convenience counters and an entire payment system – the sky is the limit.
"I look at our experience at the airport with the [Greater Toronto Airport Authority], which was similar because people are moving around and on a journey. American Express did some cool things in the airport – if you were an AmEx cardholder, you have the opportunity for valet parking, free wi-fi and access to a lounge."
He pondered, "What would happen if I were a financial services institution working with Metrolinx? Maybe you could have an add-on where you tap on [with your card] and get a discount for loyalty."
He added that there are needs brands can meet, but it requires going big – and Metrolinx is still in the exploration stage of how big it's willing to go for clients. "Perhaps you could provide a break on parking, or designated quiet cars that only certain people have access to. It needs to focus on pain points for travellers."
As Metrolinx still mulls its ideas, Lang says he's hoping it's willing to go big. It's crucial to prove effectiveness and provide return, he says. "If you're looking at just the naming rights, I can't see the difference between that and traditional advertising. Should they be allowed to do so? Absolutely, it's an asset. But unless it's part of a larger program, I don't get it."
But Jim Kozak, VP of MediaCom Sport and Entertainment,  was a little more optimistic. "It's refreshing to see a crown corporation start thinking like a business. I wish more did," he tells CARD. "What they have in their arsenal by itself is pretty effective. If they do it right, brands can interact with those consumers. Ideally, it can be at the train station, literally on the train and then at their destination once they've arrived, which can reinforce brand messaging."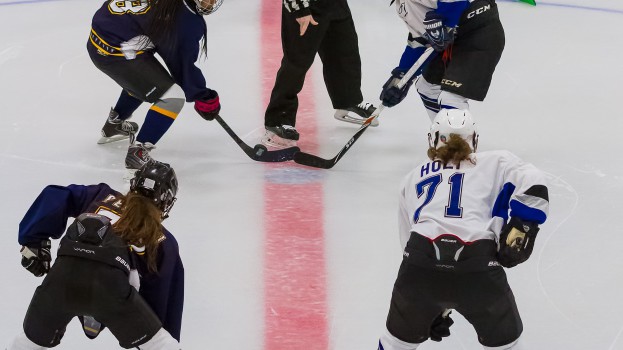 She shoots, she scores
Earlier this year, the Canadian Women's Hockey League folded due to financial issues, leaving even fewer viable options for professional female hockey players in a country known as a hockey nation. Following the move, some 200 female pro hockey players, including Marie-Philip Poulin and Natalie Spooner, took a stand and declared that they would not play in any league, including the U.S.-based NWHL, until a league they considered financially sustainable was established.
So was born the Professional Women's Hockey Players' Association (PWHPA), and the new Dream Gap Tour, a series of tournaments in Canada and the U.S. The Dream Gap tour kicked off in Toronto Sept. 20. Sponsorship lead Chelsea Purcell said the PWHPA isn't meant to be a long-term league of any kind, and that the ideal goal was for the NHL to put its money behind it. She admitted t's in a catch-22 position – it sought sponsors to make its tournaments viable, but if it's too successful in doing so, the NHL might not believe the PWHPA needs its help.
It did sign two major sponsors for the Toronto leg of the tour – Unifor served as the presenting sponsor, while Budweiser stepped in as the official beer and provided a live stream sponsorship. With two national-level advertisers buying against the PWHPA – which didn't even have a big broadcast deal to boost its profile – is it time for brands to start throwing NHL-level support behind women's hockey, if a new league were to be established?
Lang says without pause that it's "a crime" that women's sports don't receive the same level of broadcast or sponsor support as men. "From a pureplay marketing perspective, you look at emotional resonance and segmentation – women's sports have all of those."
He looks back to P&G's advertising around the Olympics, which provided opportunities for storytelling, focusing on moms, children and families. "I look at that and I wonder why we don't do more targeted activities around women's sports. It can be very emotionally engaging."
While Kris Davis, SVP of customer service at Media Experts, agrees that there is an equal need and opportunity for businesses to play a role in women's sports ("consumers are much more attuned to social issues and will continue to be more receptive to brands that support [them]," he says), he says there's a degree of cynicism involved around being seen as a bandwagoner.
"Women's sport presents an opportunity to get in on the ground floor… The crucial consideration is whether a brand has permission to play here."
But Lang is more idealistic, saying brands need to think beyond typical "women's brands." And, with rates being naturally lower than the staggering ones offered as part of NHL sponsorships, it could be an ideal fit for digital disruptors, like fintech startups. "The idea is doing things differently, so there's your alignment. They're too small to sponsor the big stuff, but you can have a big impact by sponsoring low-budget and highly targeted things."
And no broadcast? No problem, says Lang. "I think live-streaming may be the way of the future." Canadians streamed 126 million minutes of sports content last year, up 7%, according to Comscore. It lowers the budget for the associations, and therefore keeps rates comfortable. "The propensity for online engagement is highly targeted and highly engaged. That's exactly in the zone for a disruptor sponsor."