Boston Pizza gets serious about Saturdays with HNIC partnership
The Canadian chain is using Wednesdays and Thursdays to attract hockey fans to its locations during the big game.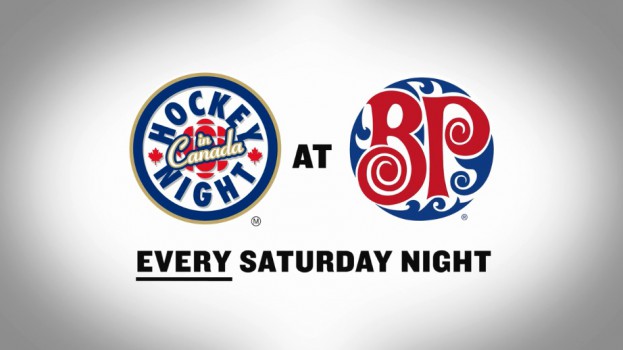 Earlier this week, the NHL regular season officially kicked off, which brings with it the first Saturday night broadcast of Rogers Media's Hockey Night in Canada will air.
With the nation's hockey fans itching to get back to their Saturday night ritual – crowding around the couch, turning their phones on silent, perched intensely on the edges of their seats in anticipation of the puck drop – Boston Pizza is hoping it can help those fans start a new Saturday night tradition through a partnership with Hockey Night in Canada.
Although its goal is to build anticipation around Saturday nights, most of its broadcast integrations will be focused on mid-week. The three-year sponsorship deal will see the brand integrated into broadcasts on affiliated properties, including the national Wednesday hockey broadcast, a custom feature on Thursday night's Tim and Sid and a presenting sponsorship of Hockey Central on Thursdays.
"The idea is using Wednesday and Thursday hockey to promote what's going on on Saturday nights at BP," James Kawalecki, senior director of marketing at Boston Pizza, tells MiC. "Hockey Night in Canada, especially the prime time game, is always in the top programs in the country, and it always aligns with our target."
Boston Pizza's target is admittedly broad, says Kawalecki, but being long-established as a sports bar while also maintaining a family-friendly brand image means partnering with the iconic property makes sense. "We always like to lean on the [hockey] pillar this time of year," he says. By attracting people to the restaurant to watch the game with their family or friends on Saturday nights, Kawalecki says, it reinforces both the chain's family-and-friends message and its sports alignment.
Throughout the partnership, Boston Pizza restaurants will be outfitted with the HNIC branding, including on take-out and delivery containers (for those who still wish to keep their hockey traditions to the living room). On Saturday nights, Boston Pizza managers and servers will also join in by sporting HNIC baby blue blazers and hockey jerseys.
To promote the launch of the partnership, BP will also launch a 30-second TV spot through a national buy. The spot also incorporates a bit of contemporary Canadiana, with Hamilton band Arkells' new song "Saturday Night" as a backing track. "It's fun, it integrates both properties, and it shows that we're at the start of a very meaningful partnership.
Boston Pizza worked with UM on both the partnership and the national TV buy.