Hotels.com creates a sporty new suite
The online booking service paired with the Vancouver Whitecaps and Toronto FC to build its brand with sports fans.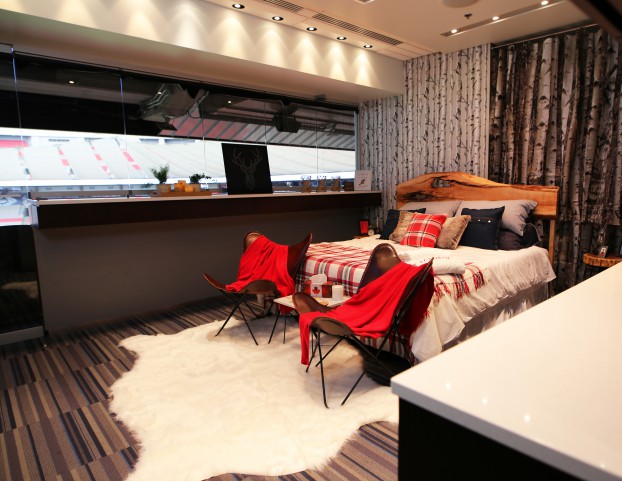 Accommodations service Hotels.com has inked a one-year deal with both the Vancouver Whitecaps and the Toronto FC soccer clubs. The partnership is part of an effort to better engage with young sports fans and align itself with soccer as the sport gains momentum in Canada.
The activation was conceived and executed by MediaCom Beyond Advertising, the content unit of the GroupM shop.
To kick off the activation, MediaCom converted a suite within the BC Place stadium into a temporary hotel suite. Done up in a rustic style with high-end leather camping chairs and a ton of Canadiana in the plaid and denim-themed bedding, the room also included the most important feature: a view of the game.
Focused on creating an "Instagrammable event," the service also offered up a stay in the suite as the prize to a contest, which it promoted through social advertising. The prize also included a Whitecaps VIP experience that took fans behind the scenes of the Beautiful Game.
The stunt is part of a long-term goal for Hotels.com that applies throughout all its global markets. The service is looking to gain traction among sport fans, and with a World Cup coming to Canada (as well as U.S. and Mexico) in 2025, the brand says it wanted to solidify its presence within the sport of soccer, establishing itself as a hotel service for soccer fans within Canada.
Hotels.com isn't the first brand – or even booking service – to create a swanky stadium suite; in 2015 AirBNB converted a suite in the Air Canada Centre as part of a contest to find the ultimate Raptors of Leafs fan.