Kin renews Facebook series New Mom Who Dis
The Jessi Cruickshank series will feature guest appearances from Liberal leader Justin Trudeau and the woman who invented (and regrets) gender reveal parties.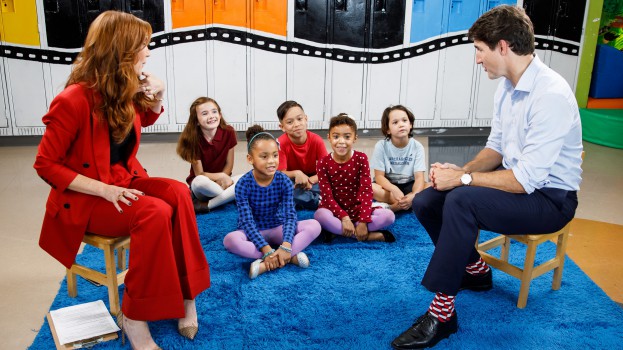 Kin Community Canada, a lifestyle-focused entertainment company that paired with Corus Entertainment earlier this year, will officially renew the series New Mom, Who Dis? for a second season. The Facebook Watch series is hosted and produced by Canadian entertainer Jessi Cruickshank and focuses on her life as a mother through entertaining and honest videos, Q&As, panels and personal stories.
Starting on  Wednesday, the series will air weekly. And Cruickshank, who doesn't typically host a great number of star-studded guests on the show, will have a big name to accompany her during the premiere – Liberal leader Justin Trudeau. The episode, while billed as "a funny and honest discussion about family life" will also see Cruickshank ask him questions on raising children and the impact his policies have on family and children.
This season will feature some other big names including parenting expert Betsy Brown Braun, Hollywood Medium star Tyler Henry and Cat & Nat's Catherine Belknap and Natalie Telfer. The season will also feature an appearance by Jenna Karvunidis – who may not be a household name herself, but the trend many believe she spawned is an online phenomenon. Karvunidis is credited by many as the creator of the "gender reveal party," a trend that has been criticized by many for its at times binary and stereotypical approach to gender. Karvinidis gained widespread attention online earlier this year, speaking out about how her views on gender have changed since then and how it has created "more emphasis on gender than has ever been necessary."
Kin Community Canada has stated that the season was the number-one Canadian series on Facebook Watch, citing data from Tubular. While it did not provide the data from Tubular upon request, a rep confirmed that the series has driven more than 553,000 views since launch. The primary audience of the series is Canadian women.
Kin Community Canada continues to provide sales and marketing support for the series, with opportunities for brands to integrate into the current season still available.