CBC goes all-in on audio with new app
CBC Listen will include access to live radio, playlists and podcasts.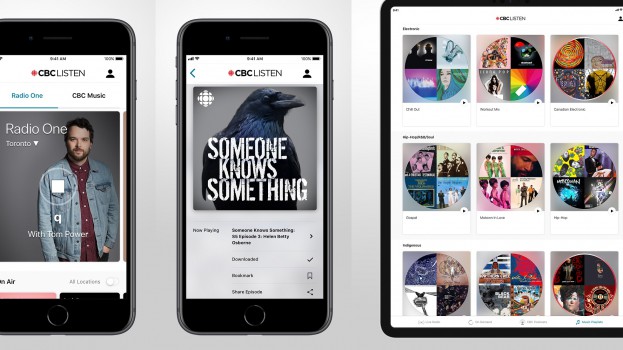 There's a new audio service on the market: CBC Listen.
The service is a central location for users to access a live stream of both CBC Radio One and CBC Music, on-demand reruns of select radio shows, CBC Music's curated playlists and the pubcaster's growing catalogue of podcasts, including the popular true crime series Someone Knows Something and the news hits series Front Burner.
CBC Listen is available through both a web-based streaming service and an app, the latter of which includes the ability to bookmark content for future listening, AirPlay and Chromecast capability, the option to download podcasts for offline listening, a sleep timer and other features.
The free app is ad-supported. Richard Kanee, executive director of digital with the CBC, tells MiC that this is part of CBC's dual digital model, which is to have a sense of sustainability from advertising revenue.
He adds that integrating ad support to audio is relatively new for the CBC. With CBC Radio mandated to be ad-free, he says this is an opportunity to engage with advertisers in this increasingly popular format.
"It was a huge day when Rdio shut down," says Kanee, recalling the former radio and music streaming service that filed for Chapter 11 bankruptcy in 2015, only a year after launching its ad-supported version in Canada. The audio app allowed users to search artists and listen to curated playlists, as well as live radio stations. Although it was unable to withstand the power of Spotify when it launched, it was hailed by many in the music and tech community as a quality app, largely because of how social-oriented it felt. "We need to guarantee that Canadians always have options as the digital ecosystem, which is so volatile, continues to evolve."
Kanee says he holds no delusions that the app is a replacement for Spotify, Apple Music, Stitcher or any of the other extremely popular audio apps on the market ("There are other audio apps?" he exclaims jokingly). But it serves a dual purpose of meeting a market need while fulfilling the CBC's mandate, he says. "We're not trying to be an app that is everything to everyone. But the experience that we're offering is a dedication to celebrating Canadian artists, Canadian creators. It's a very focused value proposition."
He says those who are particularly dedicated to CanCon and the CBC itself are an ideal audience – a similar audience to the former CBC Radio 3 digital music service, which the CBC shuttered in 2012.
CBC Listen is now live.