Is OOH still relevant?
A panel discussion during The Ad Club's OOH Day finds the medium is embarking on a period of growth, as digitization forces the industry to redefine itself.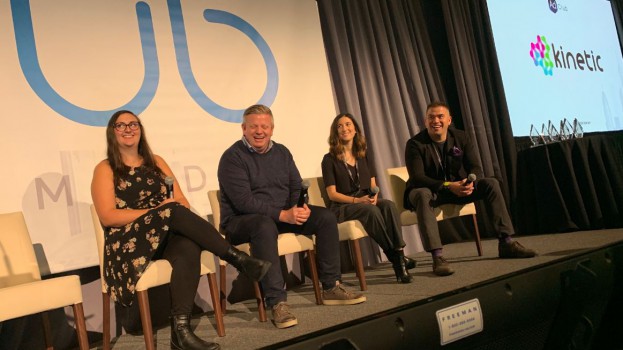 L-R: Samantha Garner, OOH and print supervisor at Amplifi, Alastair Taylor, CEO of Publicis Media, Alessia Grosso media manager at Cossette, Kinetic CEO Kevin McDonald.
Improved measurement, technology and some borrowed lessons from digital advertising have propelled out-of-home advertising forward, with much more room to grow, but the human element remains key.
That was the crux of a panel conversation during The Ad Club's OOH Day moderated by Bill McDonald, VP of national sales at Branded Cities. As the out-of-home market continues to grow (1% in Canada over the past year, up to $707 million), Zenith predicts it will continue at a similar rate, largely due to the increase in digital inventory.
"Out-of-home is finally moving to a place where it can be measured," said Samantha Garner, OOH and print supervisor at Amplifi, who would later in the day be named Planner of the Year. The emergence of digital means it is now "a medium with a lot more opportunity," she added.
With the onslaught of data now available, Alastair Taylor, CEO of Publicis Media agreed, but warned it is crucial that measurement is used effectively. There is way too much instinctual buying going on, he said, when the data can provide justification.
Harnessing and utilizing mobile data is important for Kinetic and powering attribution models, said CEO Kevin McDonald. However, it's not just about digital, he continued. With close to 85% of the faces in Canada static, he noted programmatic is the exciting new method, but leveraging that data to plan both static and digital is key moving forward. "We are now stealing traditional digital dollars and bringing that over to the out-of-home space," he said, because it is essentially just another screen to think of in the process.
Technology is exciting, but it's important not to lose sight of looking at things with a human lens, Alessia Grosso, media manager at Cossette, pointed out. "If we lose the human side, we actually lose our customers."
Historically, location has always been the key asset for out-of-home, Bill McDonald said, musing that it could be transitioning to an audience-based selling environment. It's both, Taylor said, and if you focus on programmatic elements there is a risk to purchasing fraudulent inventory. It's not just about the location, but the context, Grosso offered. True innovative out-of-home campaigns are about time and the audience insight in a contextual environment, she explained.
Out-of-home comprises roughly 5% of Canada's ad investment, Bill McDonald noted, suggesting advocacy within the industry needs to get better. As out-of-home becomes more fragmented, the challenge for agencies becomes accountability, Grosso said. "There's a really great opportunity for that to become an evolution on the planner side as well, to take more responsibility as a business leader."
The ad pie also needs to be redefined, Grosso stressed. "We're still looking at all these channels being so separate and it's not anymore," she explained, citing mobile retargeting using out-of-home boards as an example: "Is that digital or is that out-of-home?" As connectivity continues, she said it is imperative to better educate clients about how each stage of the journey is funded, "so that we're not so concentrated on driving the dollars in a place that is set into the old way of working."
Finding people to advocate is important, Taylor agreed. "We've got to somehow break through and demand the attention of clients who are spending." Still, he remains confident that out-of-home represents the last bastion in which to consistently reach consumers. "People can avoid a lot of ads if they choose to, but you can't walk around with your eyes closed. Out-of-home has tremendous opportunity."