Leon's brings fans 'couchside' for the Raptors
The Canadian furniture brand breaks into the sports world with national campaign as it continues its drive to evolve alongside Millennials.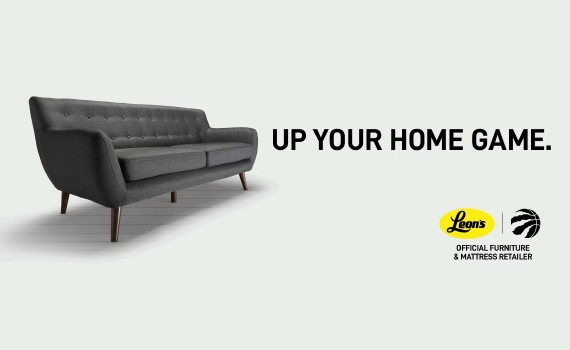 For a brand in business more than 110 years, change is inevitable. As the Canadian furniture retailer Leon's continues its transition to appeal to a younger, more trendy demographic, it has signed on with the Toronto Raptors in its first big move in the national sports arena.
The new partnership makes the furniture brand the team's official furniture and mattress retailer through out-of-home advertising, an original video series documenting the team's 25-year journey to the NBA Championship last year, arena signage, and ticket contesting.
Lewis Leon, marketing manager for Leon's tells MiC the brand will also provide a chance for fans to sit "couchside" beside the court during pregame warmups on a comfy Leon's sofa. Couchside is also the name of the video series filmed on set at the Raptors practice facility with Leon's furniture to be cross-promoted on both brands' YouTube channels.
"As an older brand, you always have to continue to change impressions of you with the consumer," Leon's president Mike Walsh says. "The Raptors have a very young, chic, multicultural audience." Indeed, although the Raptors' recent historic victory appealed to a large number of Canadians, studies have shown that basketball is particularly popular among new Canadians.
Lewis says brand metrics are still good with Baby Boomers, its loyal market. As the brand also focuses on a younger customer, the strategy has a dual focus, he explains. Introducing technology and experiential elements to the in-store experience has marked a "big transformational move," but he adds, "we're still a mass market retailer" that believes in brick and mortar as well as e-commerce.
The Raptors, Walsh points out, partner with brands they feel are relevant in the marketplace.
At a time when Canadian brands like Tim Horton's are no longer owned by Canadians, Walsh says Leon's brand trust is unique. The retailer has a presence in every province and in the last month opened new stores in both Coldbrook, Nova Scotia and Coquitlam, B.C. "We are woven into the fabric of this country and the Raptors are a similar brand," he says. "They're Canada's basketball team."