Spotted! The City of Toronto burns a message into our minds
The OOH ad brings a powerful message close to home.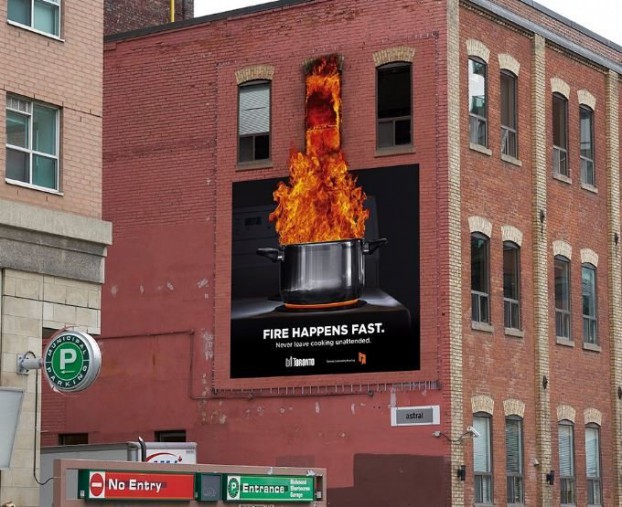 For many, fire is a draw. The crackling orange blaze draws you in as it dances and sways, mesmerizing you as it moves skyward. For others, the mere idea of fire is a nightmare, whether or not they've had firsthand experience with one large enough to cause damage.
A new OOH ad by the City of Toronto promoting fire safety is visually captivating, but shows the scary side of fire – and it does so in a location where the damage done by fire is all too real.
The large-format, static OOH ad depicts a massive fire that starts from a saucepan on a stove top and stretches up more than one story to engulf the wall's windows. The windows themselves aren't real – they're drawn on as part of the ad, which sits on an otherwise solid brick wall – but the ad has been designed to match the brick of the residential building, blending into the wall seamlessly. The message: fire happens fast.
But the media is also the message. Beyond the seamless blending into the wall, the placement of the large formats are located in Toronto's Regent Park neighbourhood; one at a residential building on Sherbourne and one on Richmond Street East. While neither of the buildings that the ad appears on have been affected by fire, Regent Park and the neighbouring St. James Town and Moss Park have seen several devastating residential fires over the years. According to Toronto Community Housing, Regent Park also has the highest number of fires from unattended cooking last year.
The media buy was procured by Publicis Media, working closely with Astral OOH. Beyond the large formats, the OOH campaign is present throughout the city at bus shelters. In those ads, the fire appears to "burn" the poster on which it lives.
Creative on the ad was designed by Publicis.