Van Houtte soars to new heights with Cirque du Soleil
A 15-second spot filmed under the big top marks phase three of a campaign for the coffee distributor's centenary.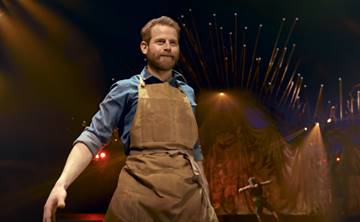 Cirque du Soleil and Van Houtte have struck a deal in the coffee company's 100th year, making it the official coffee partner for the acrobatic entertainment company's touring shows across Canada.
Although the partnership is now official, the two have been working together since 2018 on a multi-phase national campaign to mark Van Houtte's centenary. The campaign first launched in  2018 with Natrel Fire on Ice in the Old Port of Montreal, marking the largest advertising effort for the Montreal coffee distributor.
Now, coinciding with the "official" partnership announcement, phase three features a new  "Always a Master Roaster" spot filmed under Cirque's big top to run on linear and digital, accompanied by social media contesting and promotional materials in-store. Attendees of Cirque du Soleil will also find Van Houtte products at shows like Alegria, which is currently playing in Toronto. The deal was negotiated by parent company Keurig Canada's AOR, Initiative.
In an email to MiC, Stéphane Renauld, director, brand management at Keurig Canada said the partnership is a fit based on values and an image of craft and talent. She says in light of the anniversary, Van Houtte strategically planned to partner with brands that share its values in an effort to set itself apart as a longstanding crafter of coffee.
"It is only fitting to celebrate our centenary by partnering with masters in different fields and bringing the concept of mastery into the mainstream of Canadian pop culture," Renauld said.