J.P. Wiser's goes national to ask, 'drinks soon?'
The campaign aims to inspire folks to connect more often with out-of-home, dynamic ad insertion, and a special manifesto to help keep your word.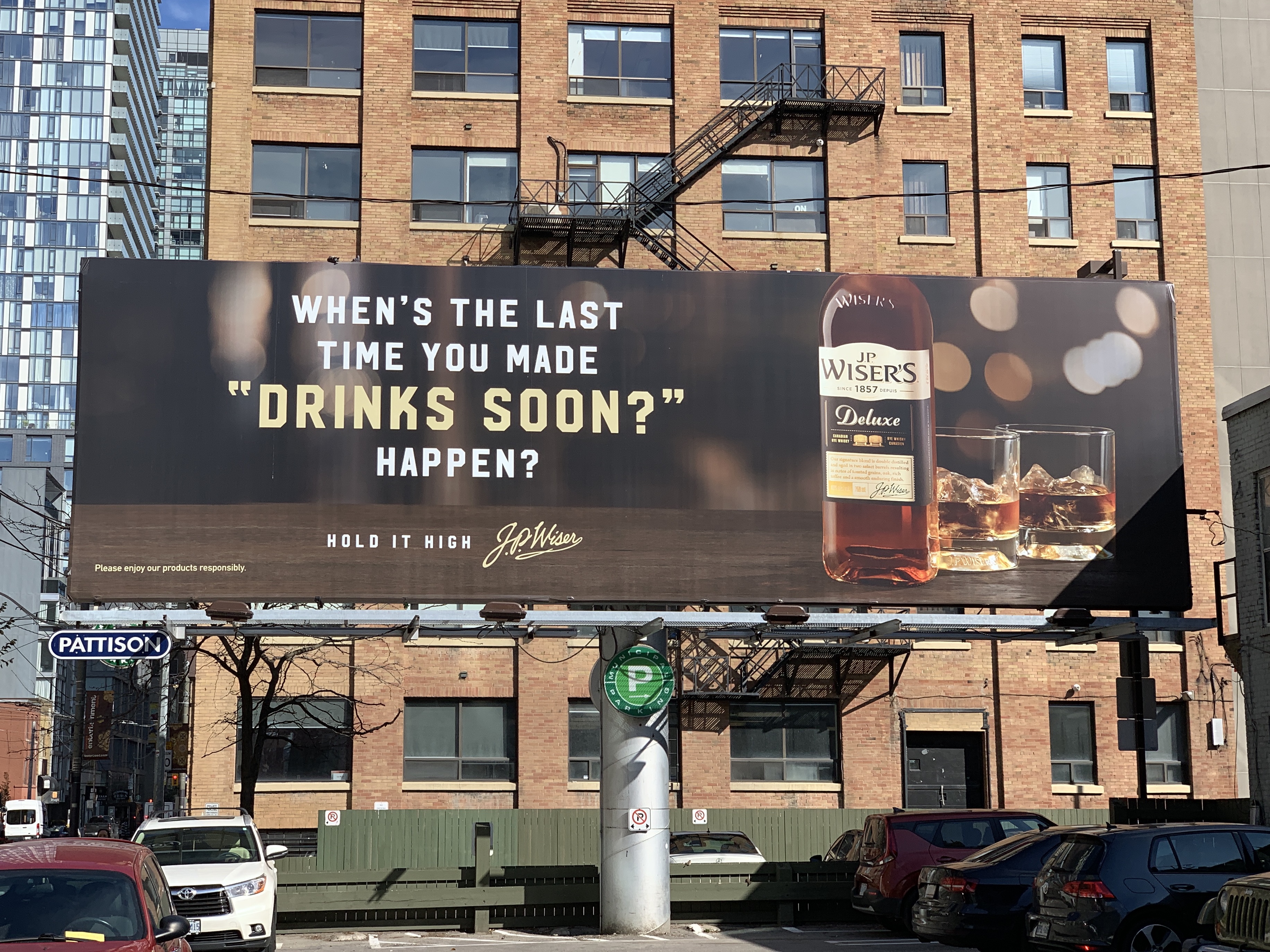 Like building the layers of a classic cocktail, J.P. Wiser's is building on an old phrase to make good on promises in a new national campaign for the whisky maker.
"Drinks soon" is a call to action, Vanessa Clarke, senior brand marketing manager for J.P. Wiser's tells MiC. Through out-of-home, billboards, online, radio and TV spots as well as social engagement, the campaign points out just how often people say, "Let's get drinks soon?" without actually following through.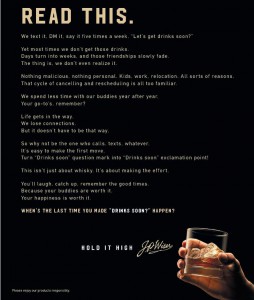 "For us it's really about exposing the brand to those who might not know about it," Clarke says, particularly "a younger group" whose familiarity with the 162-year-old company isn't the same those 40-plus who have grown up with it. With the advent of cocktail culture, the brand has seen "a definite increase" in consumption, over the last 18 months specifically. "But it can vary region by region, city to city," she notes.
Creative assets ask when was the last time you made "drinks soon" happen, complete with a manifesto (pictured right) for digital and social feeds and a print ad. To relate the messaging, the brand worked with agency partners Havas Media and No Fixed Address. "We did some social scrubbing," Clarke says, "to really identify what we believe is such a universal insight. ["Drinks soon"] is a statement often made, and the reality is that often times, things get in the way."
The campaign also builds on the "Hold It High" branding J.P. Wiser's has rolled out over the past two years; the concept of a public toast to celebrate and inspire people to connect more often. The message, integrated in relevant podcasts and out-of-home, "reflects the values of the time and care we put into our whisky making," Clarke says.
Plans for more public relations outreach and experiential activations are also in the works. "Whether the interaction with our products happen on premise or at home, it's really around being present in those moments of connectivity that they are having with friends," says Clarke.