A roundup of Election Night 2019 coverage
MiC breaks down the coverage planned from Canada's four major broadcasters including linear, digital and radio broadcasts.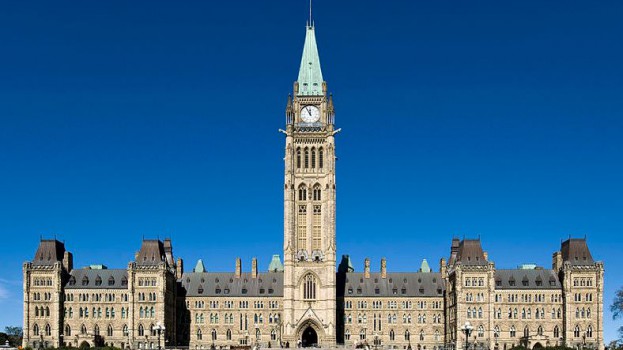 *Note: This story has been updated to include OMNI and CPAC election coverage plans.
As the 2019 Federal Election campaign period comes to a close and Canadians head to the polls Monday, Oct. 21, attention turns to the country's major media companies for live coverage as the results start to roll in. We've assembled a list of who will be where and when, including broadcast plans for linear, digital and radio. According to Numeris, coverage of Election Night 2015 drew an AMA of more than 1.8 million viewers for the CBC broadcast. CTV's special came in second at 1.7 million viewers.
Bell Media
Beginning at 7 p.m. ET CTV chief news anchor and senior editor Lisa LaFlamme leads coverage live from CTV News Election Headquarters on CTV, CTV News Channel, BNN Bloomberg and a live stream on CTV.ca, CTVNews.ca and the CTV and CTV News apps. LaFlamme will be joined by Question Period host Evan Solomon, national affairs correspondent Omar Sachedina, BNN Bloomberg's Amanda Lang, official pollster Nik Nanos and Environics Analytics expert Rupen Seoni.
Up-to-the-minute reporting will be provided by a team of 60 CTV journalists stationed at key locations and each major party's headquarters including Ottawa bureau chief Joyce Napier, Power Play host Don Martin, Your Morning co-host Anne-Marie Mediwake and Richard Madan who will decipher the facts with Truth Tracker.
LaFlamme will be joined by a panel of political veterans including former interim leader of the Conservative Party Rona Ambrose, former Liberal cabinet minister and Deputy Prime Minister Anne McLellan and former NDP leader Tom Mulcair. Adding to the conversation will be CTV Quebec analyst Antonia Maioni and political strategist Zain Veliji.
CTV Election 2019 will also cover expatriate viewing parties in Washington, Los Angeles and Hong Kong. Rounding out the coverage are special news correspondent Lloyd Robertson and chief political commentator Craig Oliver. Live updates will also be available on the CTV News official YouTube channel.
CBC
Election Day coverage kicks off at the CBC with a special edition of Power and Politics with Vassy Kapelos at 4 p.m. ET on CBC News Network. At 6:30 p.m. ET Canada Votes 2019: Election Night airs on CBC TV, CBC News Network, CBC Gem, cbcnews.ca and on the CBC News app. With The National's Rosie Barton, real time results and analysis will keep viewers posted as polls close across the country with The National's Ian Hanomansing, Andrew Chang, senior parliamentary reporter David Cochrane and morning host Heather Hiscox.
Providing context and analysis on a special At Issue panel will be Kapelos, reporter and host Duncan McCue and special guest Peter Mansbridge. CBC's political reporting team including The National's Adrienne Arsenault and David Common will provide reporting on the ground while Jayme Poisson, host of CBC podcast Front Burner will helm a panel of Canadian stakeholders. And, CBC host Wendy Mesley will host an after-election show.
Results will be posted live on the CBC News app and cbcnews.ca, the CBC live blog and for the first time ever, CBC Gem will provide an ASL livestream. CBC Radio will also provide in-depth coverage kicking off at 7 p.m. ET on CBC Radio One or the CBC Listen app with Susan Bonner of the World at Six, national affairs editor Chris Hall and Piya Chattopadhyay will convene a panel of commentators to review the results.
Corus Entertainment
From its new election studio in Toronto, Global's live broadcast of Decision Canada with lead anchor Dawna Friesen will kick off at 7 p.m. ET on select television and radio affiliates and a live stream via Global YouTube, Facebook and Twitter pages. At 9 p.m. ET Decision Canada will go live across the country.
Friesen will check in with the Global team on the ground in key battleground ridings and at party headquarters and provide analysis with Ottawa bureau chief Mercedes Stephenson, chief political correspondent David Akin and senior national affairs correspondent Eric Sorensen as well as Darrell Bricker, Ipsos CEO.
Tailored results will be displayed on screen in each local television market and live updates for all ridings will be available across Global News social channels. Two in-studio panels will feature news anchor and moderator Farah Nasser who will be joined by Global News Radio personalities Charles Adler, Danielle Smith, Supriya Dwivedi and Ryan Jesperson. And a pundit panel will feature NDP MP Nathan Cullen, former Saskatchewan Premier Brad Wall, former Ontario Liberal MPP Nathalie Des Rosiers, former press secretary to Elizabeth May, Camille Labchuk and journalist and human rights advocate Amira Elghawaby.
In the day to follow, a full breakdown of election night results will air on Global News Morning broadcasts around the country starting at 6 a.m. local time.
CPAC
Election Day coverage kicks off at CPAC at 10 a.m. with live studio call-in and hourly coverage from Atlantic Canada, Quebec and Ontario followed by Have Your Say with Mark Sutcliffe from 2-4 p.m. ET. CPAC's Election Night special will air at 7 p.m. ET with Esther Bégin, Morgan Campbell and Winston Sih as well as political observers Susan Smith of the Liberal party, Ashton Arsenault of the Conservatives, Robin MacLachlan with the NDP and Andrew West of the Green party.
Rogers Media
Citytv's CityNews will have Canadians covered on election night starting at 9 pm. ET in Toronto with locally-focused programming on CityNews.ca, YouTube, Facebook and Twitter with updates on Sportsnet and Citytv throughout primetime. A commerical-free election special will broadcast on CityNews Toronto at 11 p.m. ET.
In Montreal, Winnipeg, Calgary, Edmonton and Vancouver, locally-focused coverage will begin at 11 p.m. local time across all digital platforms alongside a commercial-free election special linear broadcast.
CityNews' Tina Tenneriello will be live from Liberal party headquarters in Montreal while Tara Overholt will provide coverage from Conservative headquarters in Regina, Travis Prasad from NDP headquarters in Burnaby and Liza Yuzda will be live at Green Party headquarters in Victoria. Live feeds from six federal leaders campaign locations will be available on all CityNews websites with live riding-by-riding updates.
Radio coverage with local anchors on election night begins at 8 p.m. ET in Toronto on 680 News, 8 p.m. ET in Kitchener on 570 News, 9 pm. ET in Ottawa on 1310 News, 6 p.m. MT in Calgary on 660 News, 8 p.m. AT in Halifax on News 95.7.
News1130 morning anchor John Ackermann will lead live coverage throughout the evening with a panel of political commentators and Cormac MacSweeney will be live in Justin Trudeau in Montreal while Tom Ross will be live with Andrew Scheer in Regina for all News brands.
OMNI Federal Election Special will feature anchors Karen So, Wei Lee, Kenneth Li and Bowen Zhang will bring election results to viewers in Cantonese and Mandarin starting at 9 p.m. ET on OMNI Television and OMNItv.ca, 10 p.m. on OMNI Quebec. Live results, reports from key ridings and coverage from all major party headquarters is planned.