Record numbers of viewers tune into election night coverage
CTV the most-watched linear broadcast of the night while digital platforms draw millions across all major networks.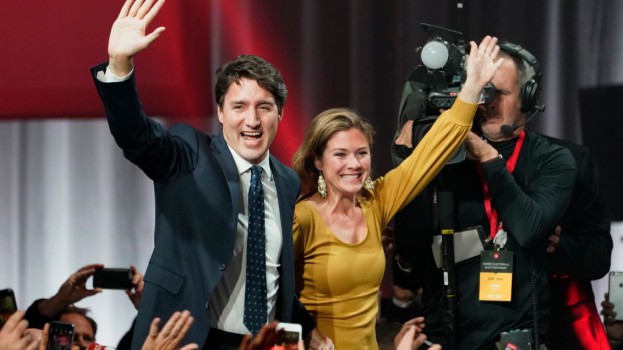 Prime Minister Justin Trudeau and his wife Sophie Grégoire Truedeau. (CTV News Twitter)
Although voter turnout in the recent federal election dropped slightly from 2015, that didn't reflect in TV viewership that night. More than 10 million Canadians tuned in Monday evening to watch the results of the 43rd federal election roll in, setting new records for single day impressions across some of the country's biggest networks.
CTV's live election special drew 10.6 million viewers to the linear broadcast making it the most-watched channel of the night, according to overnight data from Numeris, provided to MiC by Bell Media. From 7 p.m. to 2 a.m. ET, CTV attracted an average audience of 1.6 million. Audiences peaked at 2.9 million viewers at 10:11 p.m. ET, five minutes after CTV News had declared an election win for Justin Trudeau and the Liberal Party.
CTV News digital platforms broke records for the number of visits in a single day, more than double the daily traffic average. Page views generated 95% more than the daily average and the live special upped video viewing 78% more than the daily average. Bell Media did not provide exact page views.
CBC's Canada Votes 2019: Election Night special reached a total of 8.7 million viewers with an AMA of 1.45 million (+2) from 7 p.m. to 2 a.m. between CBC and CBC News Network. From 9 p.m. to 11:30 p.m. the AMA rose to 2.1 million (+2) and linear audiences peaked at 2.9 million at 10:36 p.m. CBC Radio reached nearly 1.3 million listeners while CBC News web and app audiences drew 7.5 million unique visitors with 2.7 million visiting the election results page. On YouTube the election special streamed to more than 1.7 million viewers and the same number tuned in on Facebook and Twitter combined.
GlobalNews.ca hit record digital numbers with more than 11 million page views, up 65% from its previous best, Election Day 2018. More than 562,000 viewers tuned into Decision Canada on Global's live streams and another 600,000 watched on YouTube and the linear broadcast drew an average television audience of nearly 500,000. Traffic continued to flow to the digital site during late-night coverage and morning-after analysis with 4 million page views before 12 p.m. ET, 70% of that going to election coverage. On the Global News Radio national simulcast, 600,000 unique listeners tuned in.
From 7:30 p.m. to 12 a.m. ET, an average of 945,000 Francophone viewers tuned into TVA's Fédérales 2019 – La soirée électorale. Numbers peaked at 1.5 million at 10:22 p.m. roughly 20 minutes after TVA declared a Liberal minority. Roughly 300,000 tuned into TVA's digital platforms and QUB Radio, more than nine times more the number of people who followed election coverage on digital platforms in 2015. TVAnouvelles.ca received more than 800,000 page views on election night including more than half a million for the results page and a new interactive map feature.
Rogers Media did not respond to MiC's request for broadcast and digital results.
*All stats according to Numeris overnights. Numbers for SRC audiences were not available by press time. MiC will update this piece as they become available.