Print revenue down almost a quarter for Torstar
Digital revenues also declined modestly, although susbcription is showing growth.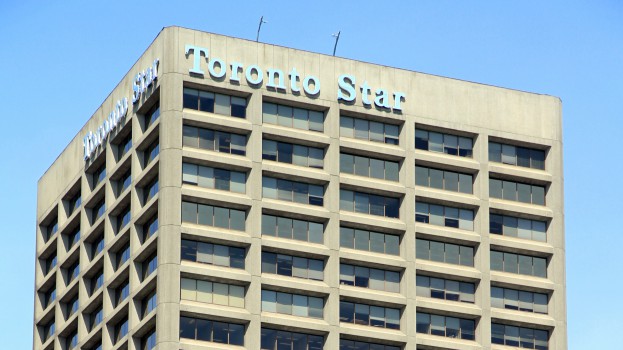 Media giant Torstar's operating revenue continues to drop as the company strives for digital transformation. Its Q3 results, released Oct. 30, indicate that the company isn't making digital gains to compensate for rapidly falling print revenue.
Flyer distribution revenues decreased by 10% (to $24.5 million), while print advertising revenues were down 23% (to $33.7 million). From the print side, ad revenue was down 20% in the communities segment (where print rev totalled $18.6 million) and 26% in the dailies segment, which encapsulates the Toronto Star, Waterloo Region Record, Hamilton Spectator and the various Star Metro brands (revenue came to $15.1 million in this segment).
Torstar has continued to invest in its digital properties, moving to a digital subscription model for its online content and acquiring digital properties such as iPolitics. However, digital advertising revenue has not grown significantly: total digital revenue was down 7% (to $13.9 million). That drop was driven mainly by lower digital revenues in EyeReturn, which is part of Torstar's "Corporate" digital segment, which brought in $2.2 million (a 32.8% drop). Although, digital advertising revenues in the communities segment grew slightly by 2.3% (to $6.1 million), and digital revenues in the dailies segment went down just under 4% (to $5.7 million).
In total, operating revenues came to $52.9 million, down from $60.4 million.
Compensation costs were $49.7 million for the quarter, which included a $1.5 million digital media tax credit and $1.5 million from a refundable labour tax credit. Excluding those tax credits, salaries and benefit cost were down $7.1 million (12%) in the quarter, representing $5.1 million of savings from restructuring initiatives and $1.1 million in lower pension expenses.
When it comes to the company's outlook for the future, Torstar's statement provided little certainty for the future impact of print ad trends on the company. It stated that similar trends from the first nine months of the year – declining print revenues – have continued early into the fourth quarter and "it is difficult to predict if these trends will improve or worsen in the balance of the year."
Torstar expects digital advertising to continue its modest decline, with the communities segment maintaining slightly more strength in comparison to "other digital verticals."
However, after experiencing growth from subscription revenues (subscription across all segments was up 2%, to $30.2 million), Torstar expects that trend to continue throughout the rest of the year, with total subscriber revenue representing a larger portion of Torstar's total revenue (it currently represents 27% of revenue). It expects organic revenue declines at VerticalScope to be "moderate" toward the end of the year.