Canadians tune in for CBC election coverage: Numeris
The pubcaster won the week with more than 2 million viewers to its election special, while NHL action drew in western markets.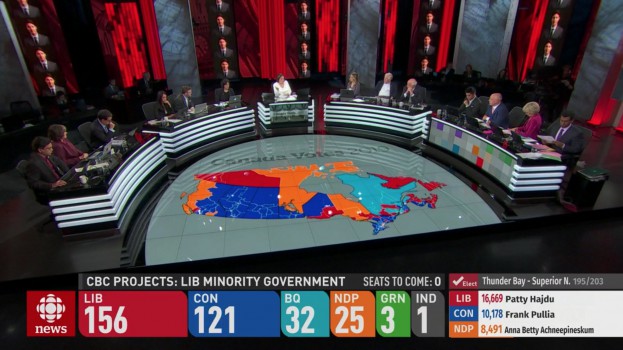 Coverage of the Federal election from the country's national broadcaster topped out at 2 million viewers, leading the Numeris charts for the week ending Oct. 27.
With an AMA of just over 2 million, the CBC's broadcast of Canada Votes 2019 drew slightly more viewers than New Amsterdam (AMA of 2.01 million) and Grey's Anatomy (1.9 million).
In Montreal, viewers turned to CTV for election coverage, while in Edmonton and Calgary it was NHL action that topped the charts as the Oilers drew an AMA of 119,000 and the Flames, an AMA of 98,000.
Francophone viewers tuned in for Gala de l'adisq 2019 the annual celebration of music in Quebec, drawing an AMA of 1.33 million.
Canada (Anglophone)
1. CBC News: Election Special on CBC Monday at 9 p.m.: 2.12 million viewers
2. New Amsterdam on Global Tuesday at 10 p.m.: 2.01 million viewers
3. Grey's Anatomy on CTV Thursday at 8 p.m.: 1.9 million viewers
4. Survivor on Global Wednesday at 8 p.m.: 1.81 million viewers
5. The Rookie on CTV Sunday at 10 p.m.: 1.79 million viewers
Quebec (Francophone)
1. Révolution on TVA Sunday at 7 p.m.: 1.4 million viewers
2. Gala de l'adisq 2019 on SRC Sunday at 8 p.m.: 1.33 million viewers
3. L'heure bleue on TVA Tuesday at 8 p.m.: 1.16 million viewers
4. 5e rang on SRC Tuesday at 9 p.m.: 1.01 million viewers
5. En direct de l'univers on SRC Saturday at 7 p.m.: 975,000 viewers
Montreal (Anglophone)
1. This Is Us on CTV Tuesday at 9 p.m.: 90,000 viewers
1. Grey's Anatomy on CTV Thursday at 8 p.m.: 90,000 viewers
2. Federal Election on CTV Monday at 7 p.m.: 74,000 viewers
3. Blue Bloods on CTV Friday at 10 p.m.: 66,000 viewers
4. The Rookie on CTV Sunday at 10 p.m.: 64,000 viewers
Toronto/Hamilton
1. CBC News: Election Special on CBC Monday at 9 p.m.: 512,000 viewers
2. This Is Us on CTV Tuesday at 9 p.m.: 444,000 viewers
3. 9-1-1 on Global Monday at 8 p.m.: 408,000 viewers
4. NCIS on Global Tuesday at 8 p.m.: 403,000 viewers
5. Survivor on Global Wednesday at 8 p.m.: 401,000 viewers
Edmonton
1. Oilers vs. Panthers on Sportsnet Saturday at 2:08 p.m.: 119,000 viewers
2. The Rookie on CTV Saturday at 8 p.m.: 89,000 viewers
3. NCIS on Global Tuesday at 9 p.m.: 83,000 viewers
4. Survivor on Global Wednesday at 9 p.m.: 79,000 viewers
5. New Amsterdam on Global Tuesday at 8 p.m.: 77,000 viewers

Calgary
1. New Amsterdam on Global Tuesday at 8 p.m.: 102,000 viewers
2. Flames vs. Panthers on Sportsnet Thursday at 7:08 p.m.: 98,000 viewers
3. The Rookie on CTV Sunday at 8 p.m.: 86,000 viewers
4. FBI on Global Tuesday at 10 p.m.: 85,000 viewers
5. Survivor on Global Wednesday at 9 p.m.: 84,000 viewers
Vancouver/Victoria
1. Survivor on Global Wednesday at 8 p.m.: 222,000 viewers
2. CBC News: Election Special on CBC Monday at 8:30 p.m.: 199,000 viewers
3. CBC News: Election Special on CBC Monday at 6 p.m.: 179,000 viewers
4. New Amsterdam on Global Tuesday at 10 p.m.: 170,000 viewers
5. FBI on Global Tuesday at 9 p.m.: 163,000 viewers