Wiser's takes over Sportsnet's morning show
In the third iteration of the Alumni Whisky Series, the Corby brand will take to the radio airwaves to tell the stories of some of Canada's favourite hockey stars.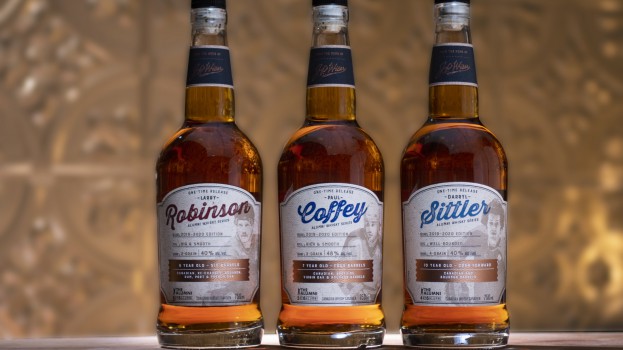 Corby whiskey brand JP Wiser's recently kicked off the third iteration of its Alumni Whisky Series, a content program devoted to telling the stories of some of Canada's favourite sports legends. And this year, it's partnered with Rogers Media in order to be thrust under the Sportsnet spotlight.
For three weeks surrounding the launch of the series, Sportsnet is re-branding the morning show of its flagship station, Sportsnet 590 The Fan – The Lead Off, which runs from 6 a.m. to 9 a.m., will be known as The JP Wiser's Lead Off. While The Fan is a Toronto property, interviews and segments will also extend to Sportsnet Radio properties in Calgary and Vancouver.
Notable past NHL Alumni Whiskey Series members including Paul Coffey, Wendel Clark and Glenn Healy will appear on the show as part of the program, sharing stories of their careers and how the NHL Alumni Association has supported them and other retired players.
Matt Mise, commercial integration director for Rogers Media, tells MiC that every iteration of Wiser's ongoing content series, the brand creates three special whiskeys modelled after a notable player, with traits (such as taste, alcohol content, etc.) that serve as a tribute to that player. So "if someone had 45 goals in a season, their alcoholic content would be 45%," he says.
And while there have been tie-ins with the different whiskeys, Mise says it's about more than the alcoholic beverage. "It's mainly to leverage the partnership with the NHL Alumni Association, which helps support retired players through any funding they may need. We get to commemorate some notable alumni from the NHL."
Using the example of Coffey, who appeared for the kick-off on Nov. 7, Mise says the hour with him covered an array of topics, from untold stories about his career to his views on the current NHL landscape, as well as discussions of the Alumni association.
Regulations prevent product integration that would see the alcohol endorsed by a notable person on-air during that time of day, but Mise says there will be brand-sell creative promoting the partnership itself, airing within two commercial clusters in the show's middle hour.
While the majority of the integration was handled directly between Wiser's and Rogers Media, Corby AOR Havas Media led the media buying promoting the partnership.