Campari mixes it up with FrontRunner ad tech
For a Grand Marnier campaign, the brand created a virtual reality experience for the ears, turning the volume up on building cocktails.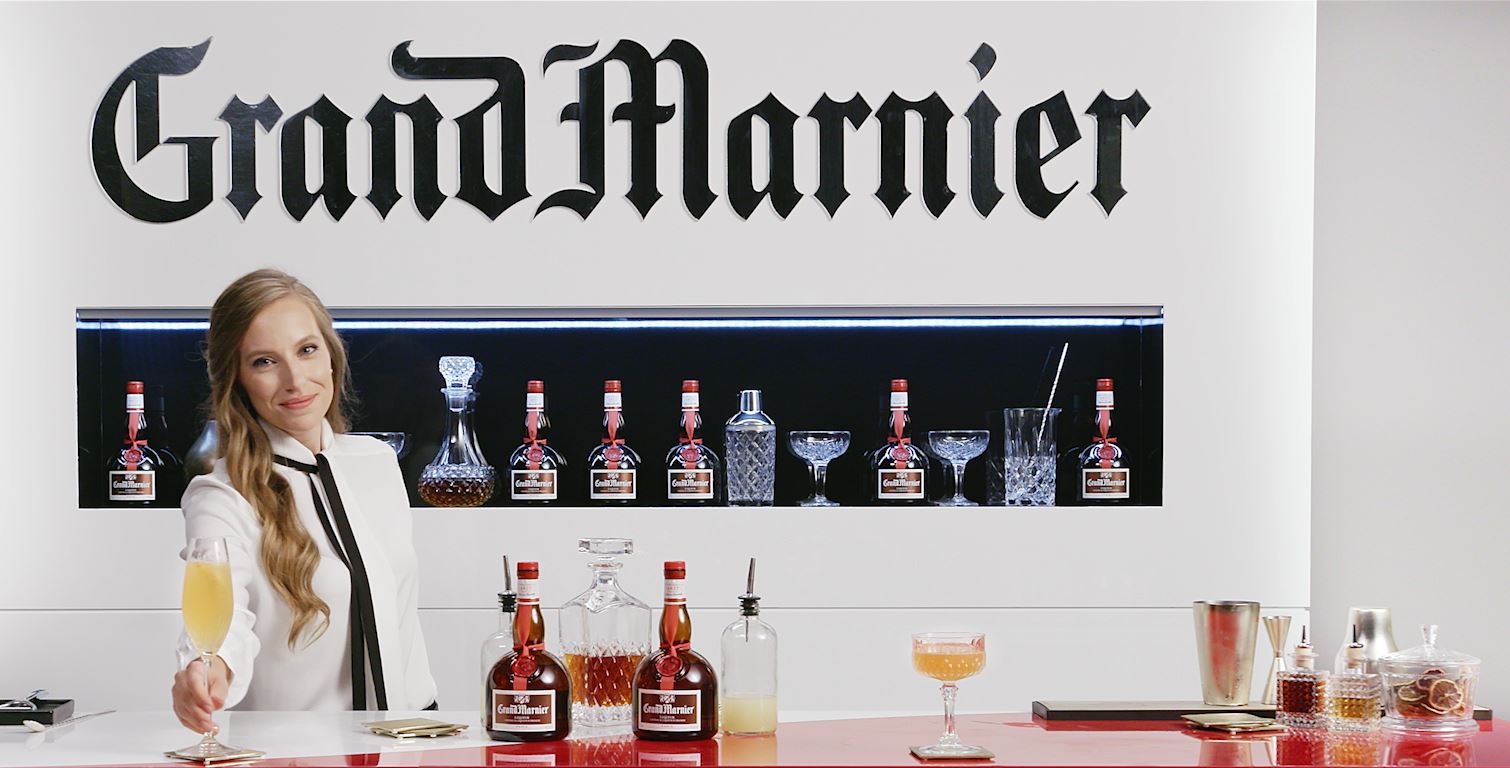 A new campaign from Campari is the first of its kind to put to use new technology from FrontRunner Technologies to make Grand Marnier "the hero of your cocktail."
FrontRunner launched FireFly Flare last month, ad tech developed with Derooted Immersive that brings binaural audio to DOOH. Described as "virtual reality for the ears," binaural sound brings to life a digital window front with elements like the crackling of ice cubes or the pouring of a spirit from the bottle. "You hear all the small, minute details that just don't get picked up when you record in stereo," says FrontRunner chief information officer, Amanda Dorenberg.
The Campari team, she says, came to the table with heightened creativity around the concept of what binaural sound can do. Accessed by a QR code via a mobile device, audio elements tap into a person's ear buds, for example, accompanied by the ad's visuals. Campari bartenders shaking up cocktails made with the signature orange liqueur invite listeners to experience the build similar to how you might standing at an actual bar.
"As Millennials and Gen Z-ers, we're always walking around with our headphones in," Dorenberg says. For Grand Marnier to embrace this technology, it reflects the desire to appeal to a younger demographic, she notes.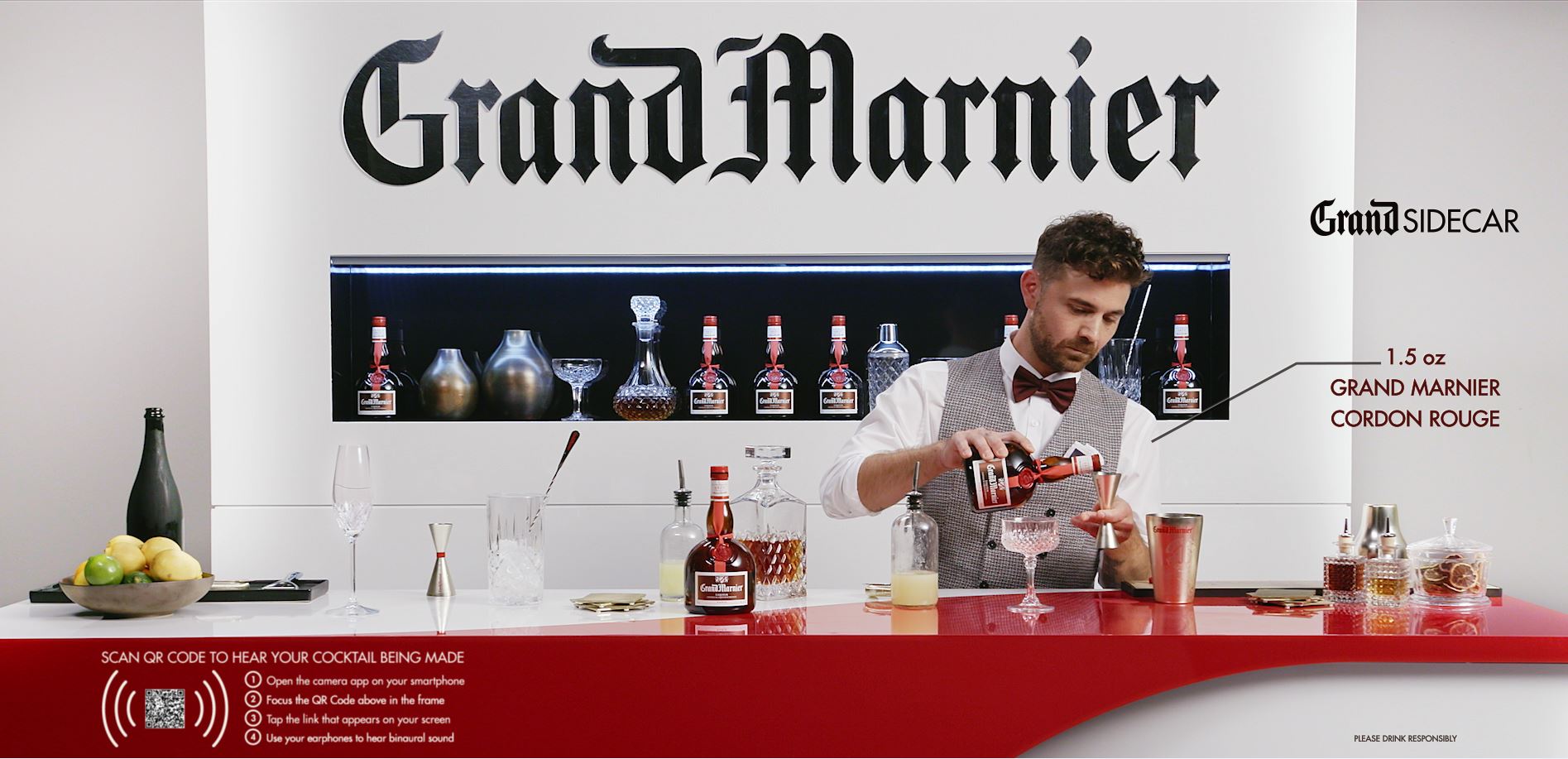 "Consumers tell us Grand Marnier was on their grandfather's shelf or their grandmother cooked with it," says Alyssa De Bartolo, senior brand manager for premium spirits at Campari Canada.
But, the biggest challenge for the brand, is that people "just don't know what to do with it," Bartolo says. The idea that the company could show people how feature it in a cocktail instead of just telling them about it on a static billboard was interesting, she says, and a departure from the brand's traditional media spend.
The month-long campaign (which had media buying handled by Mindshare) is a supplement to the larger OOH execution Campari embarked on in September. Locations (1 Bloor St. East and 96 Spadina) were strategically chosen to appeal to city dwellers and visitors, in proximity to LCBO stores and cocktail bars.
Market research has shown the Grand Marnier customer is traditionally "much older" and prefers the drink neat, De Bartolo says. "But, they're getting older and they're buying less and we don't have anybody coming in to the bottom to fill the pipeline."
With the help of FrontRunner, Campari has targeted people between the ages of 28 to 45, the quintessential hip, young urbanite, De Bartolo says, which is why the boards are downtown and the smirking bartenders are also in that age range.
Dorenberg says Grand Marnier was a smart launch brand for a technology she anticipates will grab the attention of other alcohol producers or the automotive and entertainment industries. "It's not just about throwing ads up all over the city, it's about finding a way to speak to consumers in an engaging way," she says, "bringing content to the streets."