Four lessons in media Mark Ritson brought to Toronto
Are all CPMs created equal? Is ROI everything? Ritson's short answer is no. Read his long answers below.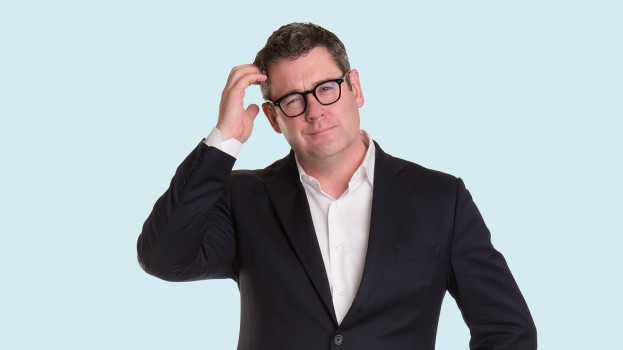 It's always an exciting time when marketing rock star Mark Ritson comes to town.
As a consultant, Ritson has worked with major brands such as PepsiCo, De Beers, Unilever and more. He's also worked as a marketing professor for more than 20 years, and currently instructs at the Melbourne Business School. He's a columnist for the U.K.'s Marketing Week and is known for his strong opinions and even stronger delivery (Ritson has a tendency to curse without thinking twice, regardless of the setting).
As a columnist and pundit, he has rarely let an opinion he disagrees with slink by untarnished – like his takedown of a Medium piece that suggests brands shouldn't engage in media spend until they have $100 million in revenue, or his exasperated defense of brand positioning.
Is it any wonder Ritson's Twitter avatar features him, head down, buried in his hand, massaging his temples?
On Tuesday, Ritson took to the Toronto stage for the first time in more than two years, speaking at an event hosted by ThinkTV. The topic was 10 factors in driving marketing profitability, which came from his own analysis of more than 6,000 Effie cases and what truly made those ads effective.
But as MiC sat with Ritson over coffee the following day, he was eager to move beyond the campaign creative and talk media. From the new trends to the metrics he thinks agencies might be a little too obsessed with, Ritson left no stone unturned before catching his flight back to Melbourne.
Here are the lessons he left us with:
1. CPMs, ROI and attribution might be catching marketers off guard.
"ROI is a silly metric to some degree," Ritson says plainly, setting his cappuccino down.
He seems awfully comfortable making a statement that so boldly contradicts much of what marketers and media agencies spend their days trying to achieve. But he says he's not the only person who thinks so.
He points to a recent statement from Adidas' global media director, Simon Peel, who frankly laid out the investment mistakes Adidas had made in the past. After adopting econometric modeling, Adidas determined that 60% of its revenue came from first-time buyers – meaning brand-building investments could generate big return. But Adidas was, at the time, putting only 23% of its marketing budget into brand-building and 77% into performance marketing. And the lack of big awareness plays were putting new leads at risk.
Brands shouldn't be afraid to recognize this and pivot like Adidas did, says Ritson – but an obsession with ROI can hold them back. "You're always looking for an 'R' in a short period of time. We're obsessed with attribution, but when you go too far down the funnel, the top – new leads – start to dry up." Attribution is important, he says, but it's not the full picture. "By focusing too much on last-click and last-two-click models, it leads us to the wrong place."
He adds that CPMs also don't always tell the full story, which he knows is ironic because cost-per-thousand-views is supposed to be a sort of standard. "Your reach might be 1,000. But what is the quality of that reach? What is the context it was served in? What is the attention paid? What is the viewability? The minute you look at CPMs, you turn everything into apples versus apples."
2. Bickering over investment channels isn't the way to go.
Ritson may have been in town to talk TV, but he was anything but dogmatic. In fact, he wants marketers and planners to strike the word "versus" from their vocabulary. "There's all these stupid debates about search versus news, or TV versus Facebook," he says, waving his hand. "They're a waste of time. The answer to these questions is simply, 'yes.' You need to have it all. If you want digital to work best, TV is a fantastic complement."
He says successfully effective brand campaigns usually strike a balance of 60% of their spend on mass awareness, top-of-funnel channels – which aren't limited to television and also include things like radio and OOH – and 40% on more performance-driven buys that push conversions. "It's sophisticated mass marketing," he says. "It's a very viable strategy to hit with an atomic bomb, and then convert more tactically."
3. Broadcasters: if you can't beat the Duopoly, don't try to be the Duopoly.
Ritson says he understands why broadcasters want to introduce new ways to buy – and he's not surprised that Bell Media, Corus Entertainment and Rogers Media have all invested in segmentation systems that allow an extra layer of intelligence when buying. For example, rather than simply targeting women 25 to 54 with a national buy, Corus' buying system allows advertisers to buy and place media in spots that are most likely to appeal to groups like "Home Improvers" or "Fashionistas." In Q2 of 2019 – just before its Fall TV Upfront – Corus said 17% of its national TV revenue came through this system.
"I think strategically, it's not a mistake, but it's not where they should focus."
Why is that? Because the aforementioned "atomic bomb" of a mass buy can plant the seeds for future buyers, he says. For example, only targeting homeowners may seem like a smart strategy, but what about people who might want to own a home someday? Striking the right mix of frequency and effective creative will stick with them. "Up until recently, we called the idea of reaching people that weren't in the target segment 'wastage.' The reality is, we're seeding a market we might get later."
As for detailed segmentation, Ritson says it's fine as an extra layer of data on buying, but he hopes broadcasters don't get too caught up in chasing true addressibility. "You can make TV more segmented and try to move down the funnel, but when you go toe-to-toe with the digital Duopoly, you can't beat them. They're just simply better value."
4. Podcasts are intriguing, but maybe not revolutionary.
Ritson has been watching the rise of podcasts gradually. While he marvels at the growth of the medium, he says he's not hedging his bets on a podcast "revolution" anytime soon.
"The fact is, podcasts represent about 3% of audio listening time," he says, citing a study by Edison Research. "You can't even begin to compare that to radio."
He says that although he's attracted to what he calls the "Joe Rogan effect" – certain hosts, like Rogan ("whether you like his broadcasting style or not," Ritson interjects) have ways of integrating brands in that feel genuine and seamless. While he notes that these are all very low-funnel, conversion-driven placements that likely have decent attribution (since many podcast ads incorporate coupon codes and custom URLs, both common attribution tools), he hasn't seen enough research to actually prove the effectiveness of podcasts as an ad channel.
Rather than overthrowing or even disrupting radio significantly, Ritson thinks it's more likely that podcasts will serve as a complement for radio. "I think the way you measure the outcome [of podcast buys] is very attractive. But radio sits at the very top of the funnel, and podcasts are at the bottom. Different ball game."