Outfront Media goes to the bikes in Montreal
The OOH vendor has partnered with the city's bike sharing program to sell media at stations throughout the city, adding more than 1,200 faces to its inventory.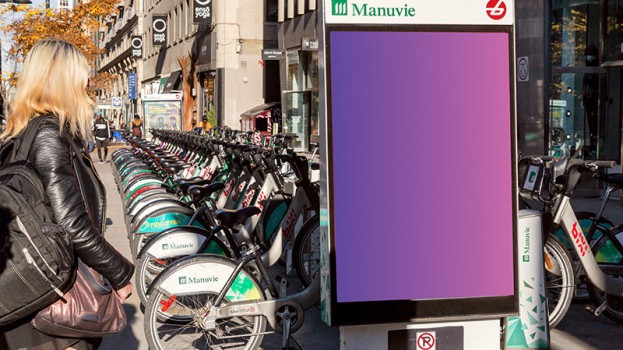 OOH provider Outfront Media has partnered with the City of Montreal's Bixi bike sharing program, officially gaining the rights to sell media at the city's bike stations.
The deal will see Outfront add 600 faces to its inventory, which now consists of 1,250 static and 27 digital faces. It's the first-ever bike sharing partnership for Outfront in Canada, and CEO Michele Erskine says that although Outfront already had a presence in Montreal, "what we were really missing was the street-level core presence."
Outfront has a number of bike share contracts in the U.S. (Los Angeles, Boston, Philadelphia and Washington), and said the feedback from those cities has been strong. "There's a nice halo effect with bike share advertisers," she says. "People know that they're supporting something really positive, and for people who use the programs, there's a really nice brand association."
Cycling is very popular in Montreal, says Erskine, and the city's infrastructure supports it much more than other cities. In 2018, Montreal's Bixi program recorded its highest number of rides yet, with 5.3 million rides taken. This represented an increase of 220% from 2013.
When meeting with the Bixi team for the pitch, Erskine and her team agreed to ride to the office on a Bixi bike in order to better understand the experience and the different touchpoints of a rider's journey.
"I'm quite envious of the way cyclists can make their way through the city, and I think because of how seamless it is for them it's a great city for us to put our first Canadian bike share program into place."
She says this new partnership is a complement to its current offering, which has focused on a combination of street-level and large-format ad placements.
The previous contract for Bixi in Montreal was held by Astral.