Spotted! Heineken puts a holiday twist on its barbershop
The brand brings its pop-up barbershop back to the Eaton Centre for a week-long run of free cuts and samples of its alcohol-free lager for holiday shoppers.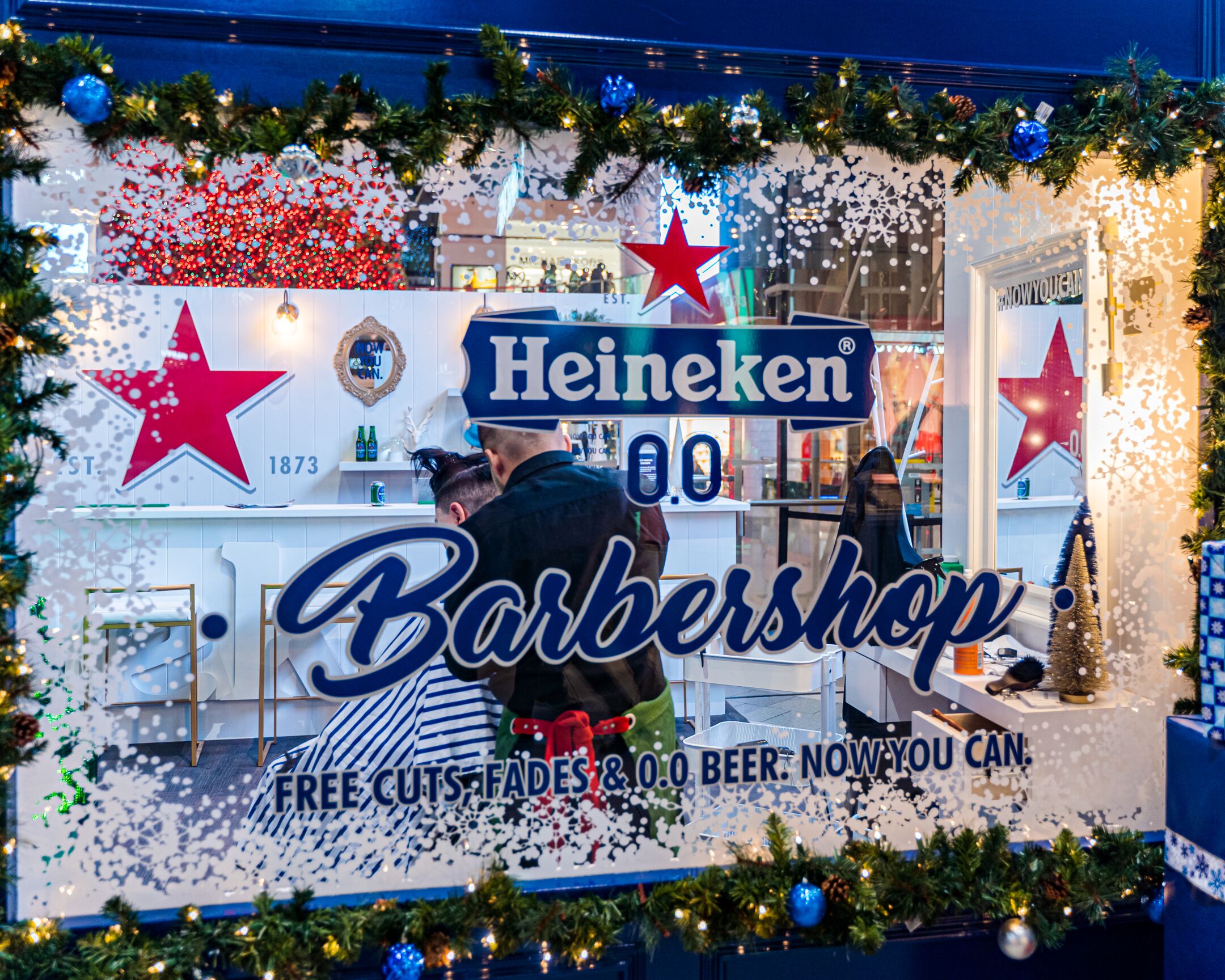 Following the success of its pop-up barber shop activation back in March, Heineken 0.0, along with partners from Toronto barbershop, The Fade Room are back for another week-long run at the Eaton Centre – and it's put a Christmas spin on the set-up.
Jessica Vieira-Teixeira, manager of brand and public relations at MolsonCoors Canada tells MiC it felt like the right time to bring back the activation as folks begin to holiday shop. "The thought of crowded malls might have you feeling a little 'Scrooge-y,' it's not the most pleasant time for a lot of people," she says, "so we thought we'd flip it on its head a little bit."
Complete with a Christmas tree made from Heineken bottles, the installation includes a handful of barber chairs, an impromptu bar top and a makeshift window display set against the backdrop of the Eaton Centre's own 80-foot Christmas tree.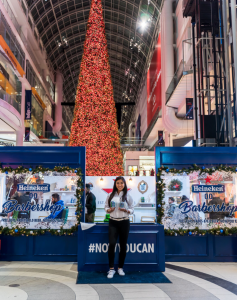 Taking pause to sip on a sample of beer or to get a free, quick fade aligns with a shift the company is seeing as more people transition to a healthier, more balanced lifestyle, Vieria-Teixeira says.
Heineken 0.0, which launched in Canada in 2018, is "an alcohol-free alternative for folks who are living a busy lifestyle, like the taste of beer, and want to live with some more moderation," she explains.
Through internal research the company found roughly 81% of young Canadian adults consider improvements in health and wellness to be a top priority. "One is reducing alcohol intake," Vieria-Teixeira says. "There's a lot of younger Millennials who are really exploring this whole notion of sober curious and flirting with that."
Heineken's rekindling of the activation also comes at a time when some might have resolutions on the mind; a recent YPulse study found that 37% of 21- to 36-year-olds plan to participate in "Dry January," giving up alcohol for the month.
But, a sweet barber shop cut is not just for the younger crowd, she says, as more people of all ages are getting their hair cut on the go. So many in fact, The Fade Room's appointment book is full for the duration of the activation, though folks are encouraged to stop by and check in on cancellations. By the end of the activation Sunday, Vieria-Teixeira says roughly 93 people will have been sheared alongside 50,000 samples tasted of Heineken 0.0.