Act now: Doug Murphy on the future of Canadian media
Corus CEO and president called on the newly-appointed heritage minister to hold Liberal campaign promises to account in altering the Broadcasting Act.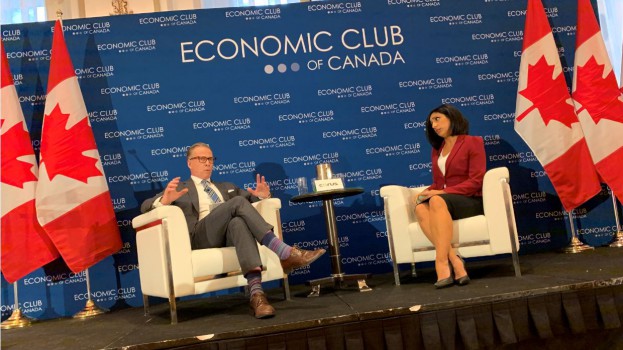 Doug Murphy sits with Global news anchor Farah Nasser for a Q & A during his address to the Economic Club of Canada this week.
Immediate action required: that was the message from Corus Entertainment CEO and president Doug Murphy in an address to the Economic Club of Canada this week.
Murphy called on the re-elected Liberal government to level the playing field for Canadian broadcasters and content creators, calling current regulations "out-of-date" and "unsustainable."
As OTT streamers continue to disrupt the industry worldwide, those players do not face the same rules Canadian broadcasters do and it is limiting the ability of companies like Corus to compete with them, he said, adding, "We're not afraid of competition, but make it fair."
Foreign-owned, unregulated, internet media broadcasters operate freely in Canada without any obligation whatsoever, Murphy explained. Whereas, Corus, adhering to policy outlined in the Canadian Broadcasting Act, currently spends 30% of its annual broadcast revenues on Canadian programming.
During the event titled, Building a Canadian Media Sector for the Future, Murphy likened it to "building a business with one arm tied behind his back." The goal for Corus now is to move into what he calls "a huge market for premium video content," in order to build a third revenue stream outside of advertising and subscription revenue.
To do that, Murphy said Canadian broadcasters need to have the freedom to build affiliated studio systems like the U.K., Australia and Germany who have "modernized their outdated rules to address these new realities" and allowed foreign investment.
"I want to make a business decision based on what our audiences want, I want to make decisions based on what our team wants to do," he said, without limits on creativity and with a sense of entrepreneurialism, key concepts that left an impression on the former Disney exec during his tenure at the mass media and entertainment company.
With a new Minister of Canadian Heritage in the newly elected Stephen Guilbeault, Murphy is confident the government will lend its ear, but warns time is of the essence. The Liberals ran on a campaign promise to re-evaluate the legislation and impose greater taxes in its first year of government. Guilbeault has a chance to make history early on in his tenure, Murphy said, but stressed that as technology continues to evolve rapidly, Canada could be left behind.
Better regulation of foreign-owned media companies is not just for the sake of the Canadian entertainment dollar, as Murphy pointed out, the obligation to provide good, trustworthy news also lies with broadcasters. Social media has created a slippery slope, he noted, hinting at the responsibilities of news aggregators like Facebook.
"If you benefit from the system, you should contribute to the system," he said.