Quebecor bolsters digital ad team
The promotion of Jean B. Péladeau and Hugo Dallaire a preparatory step as the company expands programmatically, including in OOH.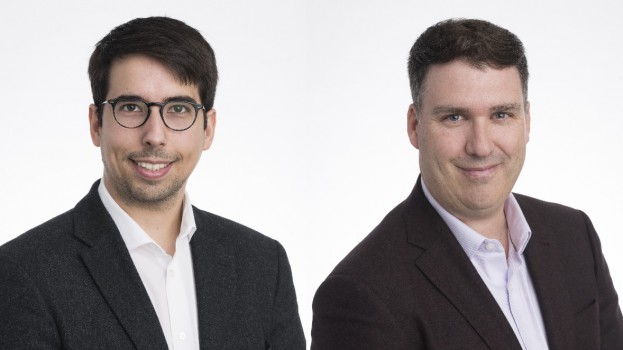 L-R: Jean B. Péladeau and Hugo Dallaire.
To keep in line with the goal of improving digital offerings, Quebecor this week has named two new team members to posts on the ad team.
In September, Patrick Jutras stepped into the role of SVP and chief advertising officer of Quebecor and Groupe TVA. At the time he told MiC, the goal was to develop a more platform-agnostic team. The promotion of Jean B. Péladeau to general manager, data and advertising performance and the hiring of Hugo Dallaire to serve as senior director, client solutions and programmatic, is an extension of that plan.
"We're about to enter the new cookie-crumble era," Jutras says, "We're just prepping for that."
Péladeau is a "digital mastermind," according to Jutras who says the analytical marketing strategist will manage the digital, database and programmatic strategies. As Quebecor gets set to launch programmatic buying for its OOH operations early next year, he says, "Jean is making sure we're putting the right infrastructure in our back end."
Both Péladeau and Dallaire will be based out of the Montreal office.
In his new role as, Dallaire will focus on driving programmatic sales, with a background in multi platform sales and a reputation for creating strategic alliances with clients in both Montreal and Toronto.
"We needed that skill set," Jutras says. "We needed someone that would meet with the clients, meet with the agencies, who not only has a deep understanding of our various platforms, but also has a deep understanding digitally-speaking and most importantly, programmatically speaking as well."
Dallaire will report to Patricia Heckmann, general manager, agency and client solutions in Montreal and Toronto.
Quebecor needed to shift in the direction the market is going, Jutras says. Confident in the company's handling of traditional platforms, he says the focus now is to "punch above our weight" digitally speaking. To that end, Jutras says, "we're adding video inventory and working really close with editorial teams to in order to have more inventory to sell."
As Quebecor's out-of-home business continues to increase and more growth is expected generally, Jutras says appointing two new roles is part of his strategy to have the right people in place. "This is an opportunity to better monetize platforms digitally," he says.