Helen Galanis brings Initiative out of the dark
In just three years, the Media Leader of the Year made significant strides in improving the agency's reputation and creative output.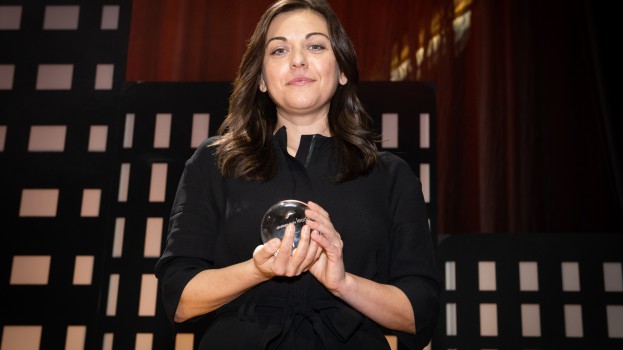 Helen Galanis came into her role as president of Initiative at a time when it was struggling to find its footing. IPG Mediabrands had just folded M2 into the agency. Client relationships were at risk and growth had stalled.
That was 2016. In the intervening years, Galanis prioritized talent and resources. And in 2019, Initiative's growth rate hit 28% – the highest in its history – with global account wins like Converse, Canada Goose and Revlon, as well as Canadian wins like Travel Alberta, Cineplex and Keurig Dr. Pepper.
So what was her secret? New frameworks like the Media Innovation Ladder kept clients, partners and staff aligned and accountable. An internal Golden Elephant Awards program saw ambition soar. And the adoption of a new planning process – titled Cultural Velocity – translated to award-winning campaigns, as well as the title of 2019 Media Agency of the Year.
"The team and talent is the thing I enjoy most about this job," Galanis says. Cementing a foundation upon which both could flourish was her focus in the first two years at the helm. A lack of diversity in both skills and personality had previously led to a stagnant operation. Now, Galanis (who meets with every potential hire) says Initiative no longer settles when it comes to talent and ensures that
everyone on the team is operating at a high level.
Galanis also took the reins on implementing Cultural Velocity, a concept created by the global strategy team in which the agency helps brands harness the power of culture to be seen as relevant among today's consumers.
The premise, she says, is that consumer behaviour has fundamentally changed. "Attention to advertising is no longer a given, so it must be earned." As a result, addressing ad avoidance has become the "heart" of the agency's approach and it isn't out of the ordinary
for Galanis and her team to open a client meeting with, "People hate advertising."
Brands who are able to diffuse their communication through culture are finding greater success, Galanis explains, using the agency's "Go Back to Africa" campaign for Black & Abroad as an example. Initiative and data shop FCB/Six took the racist phrase, "Go back to Africa," often thrown about on social media and flipped the script, redacting the context of the derogatory phrase, leaving its core message illustrated against images of the continent.
"We were able to really tap into a cultural insight and push [Black & Abroad's] message out and get much more scale than we ever would have been able to achieve if we were only relying on paid media," says Galanis.
Ad avoidance is a growing obstacle in the media landscape, she says, and it can at times feel Goliath in nature. "If you're planning media like it's 1985, then it's an insurmountable challenge," she says.
Galanis is hesitant to use words like "fix" when it comes to the work she's done to bring Initiative to where it is today, but an 18 point increase on the RECMA report signals otherwise. In December 2018 the agency again made history when it was rated "high" in its profile classification, slotting it nicely into the country's top five agencies.
And when Galanis launched Remixing the Upfront, bringing together 160 media companies and reps, she firmly took a stand against the old model of keeping partners at bay. The event is a result of Initiative's new Partnerships division (which was instituted by Galanis) and it included presentations on cultural trends that are impacting media today, as well as campaign findings from key clients. The reverse upfront
resulted in a 391% increase in the agency's "partner" Net Promoter Score.
When it comes to sustaining the agency's landmark growth of late, its leader isn't worried. As Galanis puts it, "the challenge in front of us is in a lot of ways, much more exciting. Now it's about, how do we elevate?"