Canadians tune in for Grey Cup: Numeris
Grey Cup action, including pre- and post-game coverage, draws viewers nationwide with an AMA of more than 3 million at game time.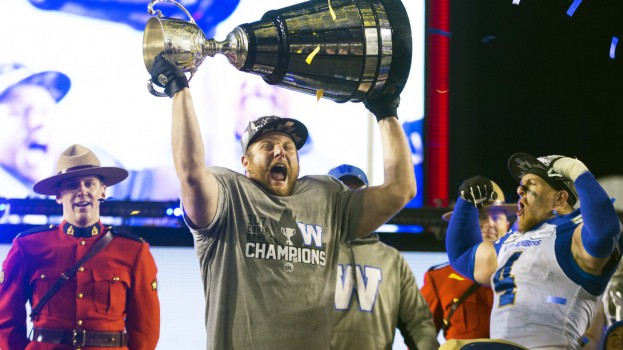 The CFL's biggest day of the year brought nationwide audiences to the linear broadcast of the 107th Grey Cup making it the most-watched single-night broadcast for the week ending Nov. 24, according to Numeris.
The Grey Cup drew an AMA of more than 3.67 million viewers, topping every market except Montreal and Quebec, as the Winnipeg Blue Bombers defeated the Hamilton Tiger-Cats. The game's pre- and post-show coverage also drew big numbers, with an AMA of 1.94 million viewers nationally.
In Montreal, CTV sitcom Bob Hearts Abishola drew an AMA of 86,000 viewers followed by The Good Doctor with an AMA of 79,000. Quebec viewership remained loyal to its top-five, except for Discussions avec mes parents which managed to sneak into the last spot with an AMA of 1.1 million.
Canada (Anglophone)
1. Grey Cup on TSN Sunday at 6:40 p.m.: 3.67 million viewers
2. The Good Doctor on CTV Monday at 10 p.m.: 2.27 million viewers
3. Grey Cup Countdown on TSN Sunday at 6 p.m.: 1.94 million viewers
4. Survivor on Global Wednesday at 8 p.m.: 1.92 million viewers
5. Grey's Anatomy on CTV Thursday at 8 p.m.: 1.91 million viewers
Quebec (Francophone)
1. Alerte Amber on TVA Monday at 9 p.m.: 1.52 million viewers
2. Révolution on TVA Sunday at 7 p.m.: 1.45 million viewers
3. L'échappée  on TVA Monday at 8 p.m.: 1.38 million viewers
4. L'heure bleue on TVA Tuesday at 8 p.m.: 1.13 million viewers
5. Discussions avec mes parents on SRC Monday at 7:30 p.m.: 1.1 million viewers
Montreal (Anglophone)
1. Bob (Hearts) Abishola on CTV Monday at 8:30 p.m.: 86,000 viewers
2. The Good Doctor on CTV Monday at 10 p.m.: 79,000 viewers
3. Grey's Anatomy on CTV Thursday at 8 p.m.: 78,000 viewers
4. The Conners on CTV Monday at 8 p.m.: 67,000 viewers
5. The Masked Singer on CTV Wednesday at 8 p.m.: 66,000 viewers
Toronto/Hamilton
1. Grey Cup on TSN Sunday at 6:40 p.m.: 875,000 viewers
2. Grey Cup Countdown on TSN Sunday at 6 p.m.: 511,000 viewers
3. The Good Doctor on CTV Monday at 10 p.m.: 491,000 viewers
4. Leafs vs. Coyotes on Sportsnet Thursday at 9:09 p.m.: 426,000 viewers
5. Survivor on Global Wednesday at 8 p.m.: 413,000 viewers
Edmonton
1. Grey Cup on TSN Sunday at 6:40 p.m.: 287,000 viewers
2. Grey Cup Countdown on TSN Sunday at 6 p.m.: 146,000 viewers
3. Hometown Hockey on Sportsnet Sunday at 6:10 p.m.: 118,000 viewers
4. Grey Cup Postshow on TSN Sunday at 9:47 p.m.: 114,000 viewers
5. Hockey Night In Canada on Sportsnet Saturday at 8:01 p.m.: 89,000 viewers

Calgary
1. Grey Cup on TSN Sunday at 6:40 p.m.: 396,000 viewers
2. Grey Cup Countdown on TSN Sunday at 6 p.m.: 178,000 viewers
3. Grey Cup Postshow on TSN Sunday at 9:47 p.m.: 169,000 viewers
4. New Amsterdam on Global Tuesday at 8 p.m.: 127,000 viewers
5. The Good Doctor on CTV Monday at 8 p.m.: 112,000 viewers
Vancouver/Victoria
1. Grey Cup on TSN Sunday at 6:40 p.m.: 313,000 viewers
2. Survivor on Global Wednesday at 8 p.m.: 200,000 viewers
3. The Masked Singer on CTV Wednesday at 8 p.m.: 174,000 viewers
4. The Good Doctor on CTV Monday at 9 p.m.: 168,000 viewers
5. NCIS on Global Tuesday at 8 p.m.: 164,000 viewers