Global to bring FBI spinoff, Kids Say reboot for midseason
The midseason lineup will also feature the series finale of The Good Place and a new timeslot for The Unicorn.'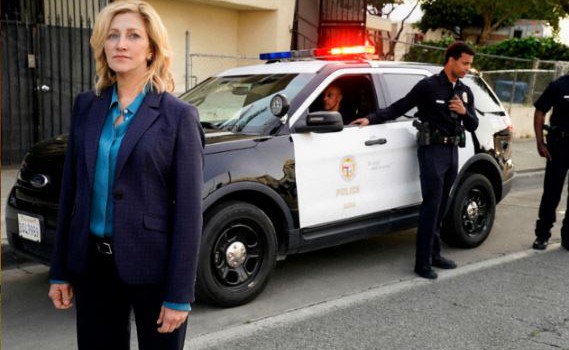 Edie Falco stars as the first female chief of police for Los Angeles in new political drama Tommy.
---
Returning favourites, new acquisitions and a new original drama characterize Global's winter lineup for 2020.
New all-Canadian medical drama Nurses kicks things off Jan. 6 at 8 p.m. ET. The show, which follows five recent nursing graduates who begin their careers in a downtown Toronto hospital, will air a special pre-release of its first episode Jan. 1 at GlobalTV.com and on the Global TV app.
The Morning Show celebrates its first show of the near year on Jan. 6 as hosts Carolyn McKenzie and Jeff McArthur deliver special coverage of Nurses.
The network will launch its new acquisitions, starting Jan. 7 with Dick Wolf spinoff series FBI: Most Wanted at 10 p.m. capping off a run that begins with new episodes of NCIS at 8 p.m. and FBI at 9 p.m. Season nine of Undercover Boss premieres Jan. 8 and on Feb. 6, Edie Falco stars as the first female chief of police for Los Angeles in a new political drama Tommy at 10 p.m.
"As we head into a new TV season this winter, we're adding more star power and multi-genre series to our schedule with a new original production, Hollywood dramas, and more episodes of your favourite hit shows," said Daniel Eves, SVP of TV Networks for Corus Entertainment.
Notable schedule changes for the new year include a new time slot for The Unicorn, now airing Thursdays at 8 p.m. followed by new episodes of Will & Grace and Carol's Second Act. And, Jan. 30 sees the series finale of The Good Place with a 90-minute episode and post-show special.
The reboot of Kids Say The Darndest Things with host Tiffany Haddish returns Jan. 5 and reality series Survivor brings its its 40th season to the screen with a two-hour special Feb. 12.
ET Canada begins awards season coverage Jan. 2 with red carpet interviews and recaps of the the big wins starting with the 77th Golden Globe Awards on Jan. 5 followed by the 26th Annual Screen Actors Guild Awards Jan. 19 and the 92nd Academy Awards on Feb. 9.
GlobalTV.com and the Global TV app also have premieres of their own this winter with the digital release of multi-generational comedy Indebted and season two of Schooled continues, beginning Jan. 16 and Feb. 7, respectively.